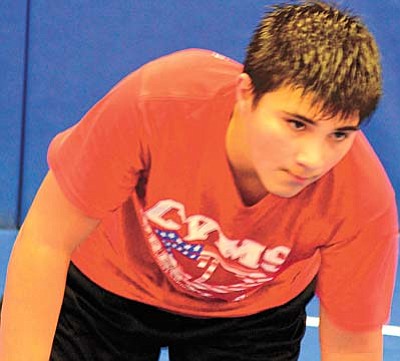 Originally Published: November 13, 2014 1 p.m.
Camp Verde high school wrestling has enjoyed a lot of success over the years. The Cowboys are hoping year 2014-2015 is more of the same.
Things will be a little different for the team this year. Tracy Tudor is a first-year head coach, taking over for Bob Weir. But Tudor has been with the program for 10 years.
Tudor described the wrestling program this way: "We've built one heck of a program. From middle school all the way up to high school. We're pretty solid and it kind of runs on its own. It's just a machine, a well-oiled machine. We've been doing really well. We always have really strong teams. We're pretty proud of these guys."
Tudor added this year he expects the same results.
"Expectations are to raise good kids," he said. "We're about character here. That's what we preach. That's what we teach. Hard work, good ethics and we win because of that."
One reason why Cowboys wrestlers have been so strong is many wrestle in the offseason. Assistant coach Mario Chagolla Sr. runs a team called New Breed Wrestling. The team competes most of the year except for the high school season. Tudor says wrestlers in that program are ahead of the others.
"It's night and day," he said. "When they do the year-around program, they're ahead of the kids who don't."
One Camp Verde wrestler to watch out for this year is junior Alex Casillas. Casillas is already a two-time state champion. He said the key for him to be a state champion again is simple.
"The key is hard work," Casillas said. "If you're not working hard, you don't get anywhere. Just give it 100 percent. If you give it 100 percent, you'll get 100 percent. Our attitude is what keeps us together as one."
Casillas will be in a higher weight class this year. The last two years he was in the 113 pounds class. This year, he will be in the 120 pounds class. He mentioned it shouldn't create much of a challenge for him.
"I'm a junior now, an upperclassman," Casillas said.
Casillas isn't the only Cowboys wrestler hoping for big things this year. In fact, he isn't even the only Casillas. His younger brother, sophomore Equielas Casillas, should also be a force to be reckoned with. Equielas Casillas will be in the 126 pounds weight class.
"Last year, I fought hard," he said. "I took fourth. But, this year I'm hoping is the year I take it. Bring home another championship for Camp Verde High School."
Equielas Casillas added his older brother's success does add some pressure to him.
"You always want to be better than your brother," he said. "He's been in the game longer than me. "
He mentioned for him to achieve his goal, it's simple.
"I'm going to work 10 times harder than I did last year," he said. "I'm going to work and do the best I can."
Equielas Casillas was one of the wrestlers in New Breed Wrestling. But one who wasn't because of his commitment to the Cowboys football team is senior Curtis Corder. Like the others, Corder wants to do well this year.
"I'm hoping to make it far into State," he said. "I hope to place in State, if not take it."
Corder will be wrestling in the 182 pounds weight class. Last year, he was in the 195 class.
"I'm feeling better about myself," he said.
The Cowboys are certainly excited about one of their new wrestlers. Freshman Skyler Pike is hoping to find success at the new level. Pike will be in the 106 pounds class. Pike was one of Camp Verde Middle School's top wrestlers.
"I think I'll do pretty good," Pike said. "Most important is I keep working hard and keep in shape. I should have some pretty good matches this year. Hopefully I can pull off a State Championship."
Pike mentioned the thinks the Cowboys will be challenged early.
"I think we're going to have some tough tournaments right off the bat," he said.
Pike said the blueprint has been written as to what he needs to do to win a State championship.
"I think I'll just need to work as hard as all our other State Champions."
More like this story