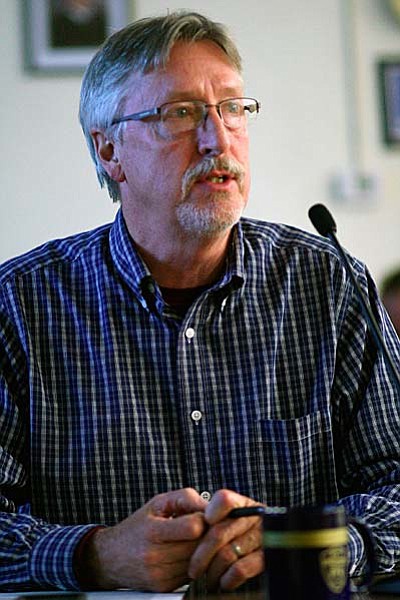 Originally Published: November 20, 2014 3:02 p.m.
CAMP VERDE - Simonton Ranch owner Scott Simonton considered his plan to donate 9.28 acres and sell an additional 6 acres to the Verde Valley Archaeology Center a "unique opportunity to accomplish several things with a public/private arrangement."
All he needed was Town Council to approve amending the General Plan and rezoning the land for commercial use.
Council agreed.
At Wednesday's regular session, Council voted 6-0 to approve both a resolution and an ordinance connected to the parcel, 403-23-104F. Resolution 2014-941 is a minor amendment to the General Plan that re-zones his 21.87 acre parcel from residential high density to commercial. Ordinance 2014-A394 amends the zoning map for the parcel to C-2.
VVAC looks forward to building a new center on the land, located on the east end of North Homestead Parkway, while Simonton now can build a technology center on his remaining 6.59-acre portion of the parcel.
"This is something I think could really be a benefit to Camp Verde," Simonton said. "This would allow Camp Verde to attract businesses that otherwise wouldn't come here."
Jenna Owens, assistant planner for the Town, explained to council that a technology center would be a lure to "companies that utilize high-speed Internet."
"This would complement the archaeology center," she said.
Simonton also said he plans a 50-foot buffer of existing mesquite trees and drainage between his remaining property and the land to the east.
Before taking a vote, council spoke in favor of the development plans both from economic and historical considerations.
"Having an archaeological center on an archaeological site is very unique," council member Bruce George said.
Several Native American ruins exist on the land that VVAC is acquiring from Simonton.
Also Wednesday, council voted 6-0 to approve Ordinance 2014-A400, which officially repealed the 3 percent food tax council approved in September.
Council also approved plans by the Town's sesquicentennial planning committee to declare the area surrounding the gazebo to be the Town's official Sesquicentennial Park. Camp Verde celebrates its 150th birthday as an Anglo-American settlement in 2015.
Council will hold its next regular session on Wednesday, Dec. 3, at 6:30 p.m.
Council's next work session is scheduled for Wednesday, Dec. 10 at 5:30 p.m.
Unless posted otherwise, all council meetings are held in council chambers, located at 473 S. Main St. #106.
-- Follow Bill Helm on Twitter @BillHelm42 and Instagram @VerdeValleyNews
More like this story