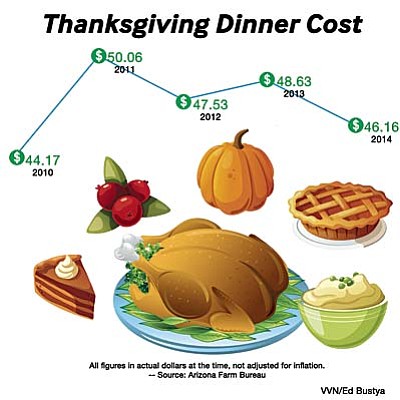 Originally Published: November 24, 2014 7:49 a.m.
PHOENIX -- Some slightly cheaper turkey and a big drop in the price of those doughy brown-and-serve rolls is going to make the Thanksgiving dinner a bit less expensive this year.
New figures from the Arizona Farm Bureau Federation put the cost of a typical dinner for a family of 10 at $46.16. That's down $2.47 from last year -- almost enough to buy another gallon of milk for the family.
The big change, dollar-wise, is in the centerpiece. Farm Bureau shoppers around the state found the average 16-pound bird selling for about $1.20 a pound, down close to a dime.
"We have a good supply of turkeys," said Julie Murphree, the organization's public relations director. That helps keep prices down.
Pumpkin pie mix also is about a quarter cheaper, with lower prices for the heavy cream you need to whip into a topping.
And for some reason, shoppers found the cost of those pre-packaged, pop-em-in-the-oven rolls is now just half of what it was a year earlier.
On the other side of the equation, sweet potatoes are more expensive this year, as are fresh cranberries, frozen green peas and those boxes of stuffing for the bird.
Going organic? Plan to pay more. A lot more.
That turkey is going to run you in the neighborhood of $3.25 a pound. And everything else labeled ``organic' also will ring up higher prices, bringing the total cost of that $95.76, compared to $91 last year.
Murphree said that overall prices in Arizona tend to run less than the national average. The key, she said, is that Arizona has so many major chains competing for the attention -- and business -- of shoppers.
``It makes for a very valuable shopping basket,' she said, especially in cases like this where lots of families are looking for the same items that make up a traditional Thanksgiving meal.
"We can really find some valuable deals there.'
Murphree acknowledged that competition might shrink a little bit what with the plans by Albertsons to buy the Safeway chain. But she said there are offsets, including the move by WinCo foods into Arizona, the employee-owned chain which bills itself on its everyday low prices.
She also said it should not be hard for shoppers to complete the meal at lower costs than the Farm Bureau survey.
Murphree said the shoppers go in and check the prices as listed. That means they're not using the discounts available to holders of the ``affinity' cards that many chains offer. And they're also not using coupons.
And she pointed out that most chains offer some sort of deal on the price of the bird -- sometimes even giving it away -- for shoppers who spend more than a certain amount that same day on other items.
Follow Howard Fischer on Twitter at @azcapmedia.