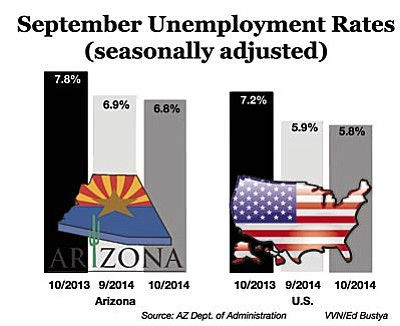 Originally Published: November 26, 2014 2:01 p.m.
PHOENIX -- Arizona gained 24,700 private sector jobs last month, enough to push the state's seasonally adjusted jobless rate down a tenth of a point, to 6.8 percent.
But all indications are that many of these aren't necessarily the best jobs in the world.
A new report by the U.S. Bureau of Economic Analysis, also released Thursday, finds that per capita personal income in Arizona grew between 2012 and 2013 at a rate just 1.0 percent. That takes the average up to $36,983.
And the prior year's growth was 3.1 percent.
By contrast, the BEA lists national average per capita income for 2013 figure at $44,765, an increase of 1.3 percent in 2013 and 4.4 percent the year before that.
And if there's any doubt that the trend is continuing, the federal Bureau of Labor Statistics recently released its own figures of wage growth in the major metropolitan areas between this past September and a year earlier. It found just a 1.2 percent increase in wages and salaries for the Phoenix metro area, versus 2.3 percent nationally.
What all that means is the wage gap between Arizonans and the rest of the country continues to widen, with workers here falling behind.
Aruna Murthy, director of economic analysis for the state Department of Administration, said the sluggish wage growth in Arizona does not surprise her.
"The sectors (of the economy) that are hiring since the recession are the low-wage sectors,' she said. "The proportion of jobs being created in the low-wage sectors are much higher than the high-wage sectors.'
That's putting it mildly.
For example, the number of people working in Arizona at bars and restaurants went up by 4,100 last month. That's a 2 percent gain. And employment is 4.5 percent higher than a year earlier.
By contrast, Arizona manufacturers actually shed 500 employees last month. And employment in that sector is a scant 0.3 percent above last year's level.
Construction, which also has high-paying jobs, also continues to suffer.
Builders did hire 3,100 new workers last month. But employment remains 2,400 below a year earlier.
And Murthy said the situation is even more complex than that.
"The people that are being hired new are young and they are inexperienced,' she said.
"They're not making as much money as their experienced counterparts would have been paid,' Murthy continued, many of whom were laid off during the recession. "If the wages don't go up and the new-hire wages are lower than before, they move the average down.'
Complicating matters, Murthy said, is that educational attainment in Arizona is below the national average.
Another segment of the economy not known for its high paying jobs is also growing faster than average: retail sales. Stores added 4,800 employees last month, compared with 4,100 at the same time last year.
Murthy said that's an indication that retailers believe this will be a good Christmas shopping season -- even if they have to trim margins to make those sales.
"The talk has it the businesses are going to price right,' she said. "Even if their margins are low, their idea is to sell.'
Follow Howard Fischer on Twitter at @azcapmedia
More like this story