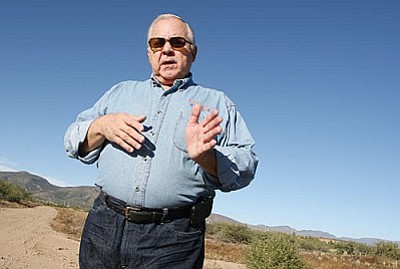 Originally Published: October 11, 2014 1:34 p.m.
CAMP VERDE - Ken Zoll's dream of a 40,000-square-foot archaeology museum in Camp Verde is close to becoming a reality, with the recent announcement of a pending acquisition of more than 15 acres of the Simonton Ranch.
As executive director of the Verde Valley Archaeology Center, Zoll said the donation of a 9.28-acre parcel and the purchase of a 6-acre parcel from Gilbert resident Scott Simonton offers a "much larger opportunity, an educational opportunity for both residents and visitors to learn about the pre-history of the Verde Valley."
In the announcement, Simonton stated that it is "exciting to see Camp Verde's history preserved and those who live in the Verde Valley today learn about and appreciate those who once lived there."
The parcels, which contain at least eight undisturbed ancient pit houses estimated to date from about A.D. 650, are located on Homestead Parkway southwest of Bashas'. The archaeological structures on the property would allow the center to conduct excavation field schools with universities and eventually develop an archaeological park with interpretive signage.
"It feels good to be preserving an ancestral site and to tell their story," Zoll said. "For the center to be located on a spot inhabited by Native Americans 2,000 years ago will be great. The area is claimed ancestrally by the Hopi, Yavapai-Apache, Prescott Yavapai and Havasupai from the Grand Canyon. The fact that we can tell their story is pretty cool."
The 9.28-acre parcel is valued at approximately $800,000. VVAC is expected to have an option to purchase the 6-acre adjoining parcel for less than half of the approximate $520,000 value, Zoll also said.
VVAC and Simonton have been discussing the land acquisition for "about a year," Zoll said. VVAC plans to build a state-of-the-art center that would include a museum/gift shop, curation center, auditorium, library/archive, café, Native American store, archaeological hiking supply store and classrooms. VVAC also hopes to partner with Yavapai College's field archaeology certificate program.
A state-of-the-art center would also "permit us to retain any artifacts that are developed or diverted from the area to remain in the area, as opposed to going to a distant museum, which has been the case," Zoll said.
Formed in 2010, VVAC's mission is to preserve archaeological sites and collections, to locally curate the collections and to make them available for research and education. VVAC also strives to develop partnerships with Native Americans, cultural groups and their communities. The center has 12 docents and about 350 members.
Zoll projects it would take between $5 million and $8 million to build the center. A 501(c)(3) non-profit-organization, VVAC is seeking donations and grants to reach its goal.
"Ideally, if finding goes well, we could be up and running by 2018," Zoll said.
VVAC will make a public announcement of the land acquisition at the center's Gala Benefit at the Sedona Poco Diablo Resort on Saturday, Oct. 18, at 6 p.m. For more information on the property, building plans or gala, call VVAC at (928) 567-0066, or visit www.verdevalleyarchaeology.org.
-- Follow Bill Helm on Twitter @BillHelm42 and Instagram @VerdeValleyNews