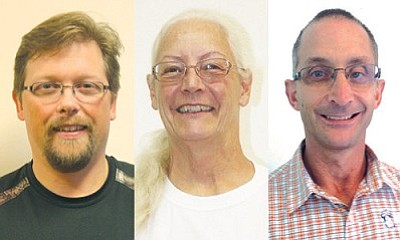 Originally Published: October 15, 2014 8:35 a.m.
CAMP VERDE - Camp Verde Unified School District candidates include local pastor Mick Martin, former teacher Kitty McDowell and local business owner Tim Roth. The three explained what they might bring to the governing board.
Please tell us about your background
Martin: I married my wife Catherine 19 years ago and we have 7 wonderful children ranging in age from 12 months to 17 years. I've been a pastor for over 20 years in various locations all across the country, in churches ranging in size from 100 to 6000. Our family moved to Camp Verde in January of 2011 when I became the Lead Pastor at Parkside Church.
McDowell: I have a bachelor's degree in Business Management and a master's degree in Education. I have taught for 20 years, including the last nine years at Camp Verde Elementary School. I am passionate about the students and want to be in a position to serve them and the community.
Roth: I have lived in Camp Verde since 1996. My wife of 22 years, Robyn, taught at CVUSD for over 10 years, from a substitute teacher to a high school teacher to a fifth grade teacher. My daughter Ashley went to the elementary and the middle school. She now attends NAU and is enlisted in the Air Force. Presently my three sons attend CV elementary, the twins Adien and Isaiah are in the first grade and Tyler is in second grade. I have had the honor of serving our community as school board member from 2009 to 2012.
What is CVUSD's greatest asset and why?
Roth: Our staff, that is all personnel from the bus drivers, to the groundsmen and women, to secretaries, aids, teachers, administration, facility maintenance personnel, etc.
McDowell: CVUSD's greatest asset is its teachers and support staff. The teachers are highly qualified, motivated and caring. They are passionate about the students and put in many extra and often unrecognized hours to make sure that their classes and extra programs meet the student's academic and emotional needs.
Martin: Our faculty and staff are our greatest assets because they are the "boots on the ground," the ones who are ultimately accomplishing our goal - to educate our students and prepare them for what's next. There is nothing more important than the teacher in education.
What most needs to change at CVUSD?
McDowell: What most needs to change at CVUSD is open communication between staff and administrators. Teachers are encourages to bring forth new ideas and programs but they are discouraged from questioning or disagreeing with anything put into place by higher up. Teachers' concerns often go unaddressed.
Martin: At this time, I'm unaware of any glaring issues that urgently need to change, and this comes from feedback with my five children, as well as conversations with administration. This however doesn't mean we can't improve. The main areas of focus for improvement would be the following: graduation rates, drop out rates, academic accountability, controlling costs and classroom sizes.
Roth: Wouldn't have a clue.
Do you support the 4-day schedule - why or why not?
Martin: I do support the 4-day schedule IF the anticipated benefits come to fruition. If we find after a year or two that the results don't match the projected forecast, then we have to consider reversing the decision.
Roth: No, I don't feel it is the best thing for elementary students, that they have a longer day and their attention span is shorter than older children. With that said, I will be there for the students' best interest and, who knows, maybe it will turn out to be a positive move for students.
McDowell: I do not feel that enough forethought or planning was put forth before adopting the 4-day week. I support the 4-day week because to not support it is to not support the students. I believe that it should be re-evaluated at the end of this year to determine if it is a good fit for our community. I encourage input from all stakeholders.
Given CVUSD's current budget, is the board on the right path toward meeting the needs of students and taxpayers - why or why not?
McDowell: The board approves the budget as submitted by the superintendent. I went on the ADE website to view the current budget and found 72 pages that I could not decipher. I feel that often the board puts too much faith in the recommendations of the administration and does not consider the complete picture.
Roth: I don't know enough to answer this question.
Martin: I believe tax dollars should be treated with great respect. Every federal, state and local dollar spent on education belongs to the citizens and it is the Board's obligation to make sure it is spent wisely. With that said, I do believe that our current Board and Administration have done a good job and have us headed in the right direction.
By Raquel Hendrickson, Staff Reporter
CAMP VERDE - In education elections that impact Camp Verde and Beaver Creek voters, there are some real contests and a couple of walkovers.
Camp Verde Unified School District has three candidates for two open seats on its governing board. One is a former board president (Tim Roth), one is a former teacher in the district (Kitty McDowell), and one is a local pastor (Mick Martin).
The
Yavapai College
Governing Board's District 2 seat has two contenders. Long-time incumbent Herald Harrington is seeking re-election and faces a challenge from former college administrator Deb McCasland.
For the Beaver Creek Elementary School District Board, there are two seats and two candidates. Incumbents Karen DuFresne (the board president) and Jo Burke have no opposition.
Though Stacey Barker, the incumbent and only candidate for Camp Verde's seat on the Valley Academy for Career and Technology Education board, had to withdraw from the race after nominations closed, there is an option. Steven Pike of Camp Verde stepped in to fill the void as a write-in candidate.
Election Day is Nov. 4. Early voting began Oct. 9.
More like this story