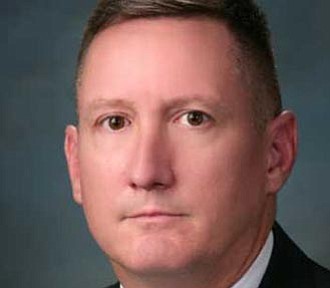 Originally Published: October 24, 2014 1:08 p.m.
PHOENIX -- A complaint by an employee of sexual and racial harassment preceded by one day the Oct. 17 decision by Gov. Jan Brewer to fire the head of the state agency that oversees virtually all state workers.
Documents obtained by Capitol Media Services show the governor's office was given copies of a filing by the worker with the federal Equal Employment Opportunity Commission on Oct. 16. The worker, whose identity was not disclosed, said in her filing with the EEOC that Brian McNeil, director of the state Department of Administration, made comments to her last year with "sexual connotations.'
"He also mentioned that although I was an 'attractive women' (cq) and a good speaker, he wanted more from my job performance,' the complaint reads. And the woman also said that McNeil repeatedly referred to her as being in a "protected class,' that others would not criticize her work performance "based on racial issues,' and she needed to "woman up.'
While the EEOC filing was in February, gubernatorial spokesman Andrew Wilder said his boss did not become aware of the issue until Oct. 16. It was that day the woman gave a copy of the filing to Kathy Peckardt, a deputy chief of staff to Brewer, with a sticky note to Peckardt saying "this is what was turned into the federal EEOC office and the investigator interviewed me on 2/14/14.'
But what may have precipitated the woman to take that action is her allegation that problems with McNeil continued right through the day she informed the governor's office.
The woman furnished Peckardt with a statement saying she had met that day with McNeil, saying there were "some positives mentioned about growth opportunities.' But she said there were other comments.
For example, she said McNeil mentioned the possibility of working with the Government Transformation Office, saying she could bring good qualities to the group. "But I had an upside because I am a member of the protected class and others might be afraid to say things to me that might make me mad.'
And she said that McNeil asked her age "because one of his buddies was impressed with me at a work function but only wanted to date someone that had to be 40 years old.'
McNeil was fired the following day.
In a prepared statement, McNeil said he has never discriminated against anyone based on race or gender and believes he was treated unfairly.
"I believe had this matter been researched and investigated fairly, properly and objectively, it would have already been found to be something other than what is characterized,' he said. McNeil also said he was never given the specifics of the accusation, interviewed about it or provided an opportunity to review and respond before being told to resign or be fired.
"I seen the media received the documents in surprisingly quick fashion, but I had no chance to review them although I am the one accused,' he said.
The story does not end with McNeil's firing.
On Tuesday, the woman told Peckardt in a memo that she received five phone calls from McNeil earlier that day in less than three hours on her personal cell phone, with him leaving a voice message on one and a text message with another.
"Because this was after his termination, it left me feeling very uneasy and a bit concerned,' the woman wrote. "I decided to not stay at my home on this particular night due to the uneasiness.'
"I wish things would have gone better,' McNeil says in an audio of the voice message obtained by Capitol Media Services.
"I wish I would have been more sensitive, you know, about how I was coming across early on,' the message continues. And he said the meeting on Oct. 16 -- the one that apparently precipitated the woman giving all the information to the state -- "was intended to try to help promote, you know, better clear dialog between you and I about professional matters.'
For the moment, McNeil remains on the state payroll.
Scott Smith, the governor's chief of staff, agreed to a request by McNeil, who is a lieutenant colonel in the Army Reserve, that he be placed on paid military leave through Nov. 7. And he is being allowed to use annual leave from Nov. 10 through Dec. 19.
McNeil was executive director of the Arizona Corporation Commission from 1999 to 2009. That year he joined the Brewer administration as a deputy chief of staff.
He left to become a lobbyist but was rehired by the governor two years ago to head the Department of Administration. That agency has purview over human resources and personnel issues as well as everything from state buildings to fleet management.