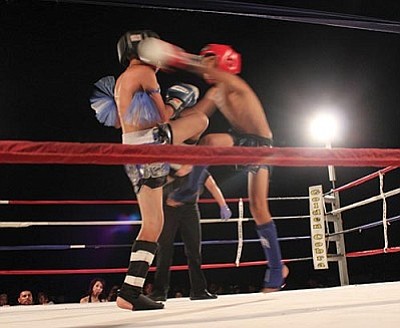 Originally Published: October 25, 2014 11:18 a.m.
Golden Cobra Center of Fitness Inc. joined with Law Enforcement Heroes for Family Fun Day that included IKF fights in the evening. Two nonprofits joined fund-raising efforts to create a day packed with fun and excitement for Cottonwood.
The Law Enforcement Heroes from the Cottonwood Police Department raised funds to create the K9 statue to be placed next to the already made Police Officer statue. Golden Cobra raised promotional funds to offer opportunities to local gyms to showcase and practice their skill in their hometown at an official IKF tournament.
The local gyms that benefited from this tournament showcased two brothers Adam and Avery Hines, Yavapai-Apache tribal members who attend Champ's Gym in Camp Verde trained by Clifford Larson.
Dragon's Eye gym of Cottonwood had one fighter, Manuel Robinson, trained by Guillermo Briseno, scheduled to fight but was injured prior to fight night. Golden Cobra Center of Fitness had two fighters, one boxing demonstration by Kristy Williams, Richard Williams daughter. The second fighter was Nick Salantri. All local fighters did well by winning their bouts and both demos were outstanding.
The crowd spent most of their time on their feet. New York Style Throwdown 2 proved to be a success all around.
Golden Cobra Center of Fitness Inc & Law Enforcement Heroes thanked all businesses and families who donated, sponsored and participated in the event.
Fight #1 Muay Thai
Adam Hines, 4'8', 79 lbs, 3/2/0, DOB: 1-23-03, Camp Verde, Trainer: Clifford Larson; versus  Damien Montechello, 4'10", 80 lbs, 1/2/0, DOB: 1-21-03, Flagstaff, Trainer: Mike Martinez
Winner: Adam Hines - Unanimous Decision 30-27, 30-27, 29-28
Fight #2 Muay Thai
Corina Tran, 4'10", 98 lbs, 2/2/0, DOB: 5-17-01, Gilbert. Trainer: Thiago; Versus Kalee Everett, 4'8", 94 Lbs, 2/0/0, DOB: 12-15-01, Las Vegas Nev., Trainer: Joe Slick
Winner: Kalee Everett - Split Decision 29-28, 29-28, 28-29
Fight #3 Muay Thai
Demo: Avery Hines, 4'5", 110 Lbs, 0/1/0, DOB: 12-16-03, Camp Verde, Trainer: Clifford Larson; versus Cesar Rodriquez, 5'2", 110 lbs, 0/0/0, DOB: 11-25-00, Flagstaff, Trainer: Mike Martinez
Fight #4 Muay Thai
Celicia Tran, 5'0", 105 Lbs, 0/3/0, DOB: 2-16-00, Gilbert, Trainer: Thiago; versus Sidney Slick, 5'4", 105 lbs, 2/4/0, DOB:Â  1-06-00, Las Vegas, Nev., Trainer: Joe Slick
Winner: Sidney Slick - Split Decision 29-28, 29-28, 28-29
Fight #5
Boxing Demo
Kristi Williams versus Nikki Cordova
Fight #6 International Rules
Jared Ramirez, 5'3", 140 Lbs, 1/0/0, DOB: 2-14-96, Surprise, Trainer: Glenn; versus Matthew Strohm, 5'5", 137lbs, 0/1/0, DOB: 12-09-92, Mesa, Trainer: Steve Justo
Winner: Jared Ramirez - TKO  1:43 Round #1
Fight #7 Muay Thai
Nick Salantri, 5'10", 159 Lbs, 5/3/0, DOB: 8-12-82, Prescott, Trainer: Richard Williams; versus  Francisco Pena, 5'6", 157 Lbs, 0/1/0, DOB: 1-02-87, Trainer: Ricky
Winner: Nick Sanatri - Unanimous Decision 30-27, 30-27, 30-27
Fight #8 International Rules
Anthony Wagner, 6'0", 153 Lbs, 1/0/0, DOB: 8-7-90, Surprise, Trainer: Glenn; versus George Chi, 6'0", 153 Lbs, 3/0/0, DOB: 2-06-94, Flagstaff, Trainer: Mike Martinez
Winner: George Chi - Unanimous Decision 30-27, 30-27, 29-28