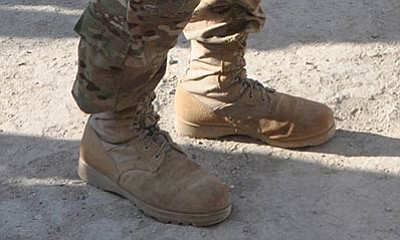 Originally Published: October 31, 2014 11:13 a.m.
Why do we insist that our military fight with one hand tied behind their backs? President Obama has assured us that the only "boots on the ground" in the current Mid-East struggle against IS terrorists will be from the countries IS has invaded - Syria and Iraq. Unfortunately, the terrorists don't share that problem, recruiting worldwide. Why then do we not support those who are willing to provide those "boots"?
The most effective forces, so far, against IS have been Kurdish fighters - ironically the only stateless group - both in Iraq and Syria. But their successes have been limited by a lack of heavy weapons to counter the armor and artillery Islamic State was so generously supplied - via a routed Iraqi army - by the U.S. The Kurds, who are not Arabic and number around 40 million, live in a contiguous area that encompasses parts of Iraq, Syria and Turkey and are oppressed by all three governments. The Iraqi Kurds have managed to carve out a semi-autonomous region of mostly self-government. The Turkish Kurds have been struggling for decades to establish a similar region. Iraq's and Turkey's governments strongly resist aid to Kurdish factions fighting IS, fearing that once IS is defeated those factions will be in a stronger position to demand equality.
The U.S. military has prepared "options for arming or resupplying Syria Kurds" currently fighting to hold the city of Kobani, just inside the Syrian border with Turkey. Obama has only allowed small arms, not the heavy weapons needed to match IS. Kobani is important because IS deems it important. A victory will signal their strength against the west and be a recruiting bonanza. A lack of will by the U.S. and NATO to supply our Kurdish friends means that, instead of victory, we suffer a slow, expensive, defeat, and a grinding down of Kurdish fighters - probably the goal of both Ankara and Baghdad.