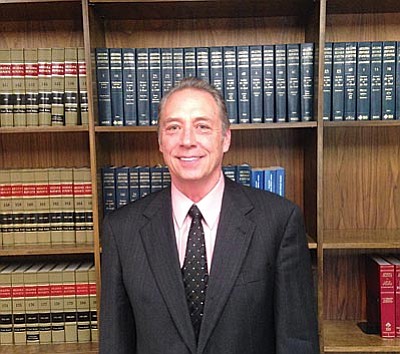 Originally Published: September 4, 2014 2:16 p.m.
YAVAPAI COUNTY -- Presiding Judge David L. Mackey announced the selection of Jeffrey G. Paupore as judge pro tem for the vacancy created when Judge Patricia Trebesch was appointed to Division IV of the Yavapai County Superior Court by Gov. Jan Brewer.
Paupore has been a deputy Yavapai County attorney since 2001. He has prosecuted numerous high-level felony cases in the Yavapai Superior Court, and was recently awarded the prestigious Lifetime Achievement Award of the Arizona Prosecuting Attorneys' Advisory Council for his lifetime commitment to public service and significant contributions as a prosecutor. Paupore is a graduate of the Thomas Cooley Law School in Lansing Michigan and has practiced law since 1982 in both Michigan and Arizona.
Twenty-six applicants sought the position. Mackey made the selection after interviewing six finalists identified by a Selection Committee, reviewing applicant qualifications and considering public comment. When announcing his decision, Mackey stated, "Jeffrey Paupore has distinguished himself as a dedicated attorney who has demonstrated the ability to vigorously advocate while maintaining an open mind that there is always more to the story. Those qualities will serve him well as a Judge Pro Tem."
Mackey is requesting that the Yavapai County Board of Supervisors approve the appointment and that the Chief Justice of the Arizona Supreme Court make the formal appointment of Judge Paupore effective Sept. 8. Judge Paupore will serve primarily in the Verde Valley Judicial District.
Mackey also stated, "I would like to thank the members of the Selection Committee and would like to thank all the individuals who provided public comment to me on behalf of Jeffrey Paupore and the other outstanding applicants." The Selection Committee Members are the Honorable Michael R. Bluff, Associate Presiding Judge and Selection Committee Chair, Scott A. Miskiel, Esq., Sharon M. Flack, Esq., Robert E. Schmitt, Esq., Linda Wallace, Esq. and C. Rolf Eckel, Court Administrator.
-- Contact the reporter at jhutchinson@verdenews.com