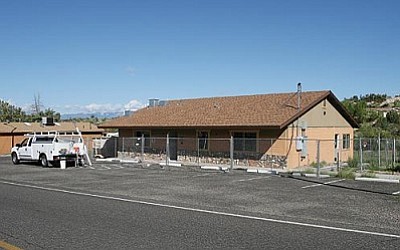 Originally Published: September 11, 2014 2:52 p.m.
RIMROCK - Circumstances don't make the man. They reveal him.
This is what Robbie Satran learned when his restaurant caught on fire the morning of March 16.
Satran, owner of Robbie's Restaurant, says he was "blown away" by the outpouring of love and appreciation from the community.
"I love the people in Rimrock," Satran says. "I love the people in the community. I don't think I would have gotten such love out of any other community. It's been incredible."
After waiting two months for construction to begin, Noble Heritage Builders has "worked tirelessly" to rebuild the restaurant that Satran recently announced would reopen around the first of November.
"Very personable and very professional," Satran says of Noble Heritage Builders. "They do very good work. There's a new roof. Besides the frame and cement walls, it's a 100-percent new building. Everything will be new."
Carol Satran, business partner and Robbie Satran's sister-in-law, admitted the rebuilding process "took longer than we anticipated," but she says she's excited that Robbie's will soon be able to reopen its doors to the community.
"This time, we'll have the liquor license right from the go," Carol Satran says.
Besides offering "good food, good prices and a fun environment," Robbie Satran says his goal for the next year is to reinvest in staff and equipment."
"We won't have the growing pains we had in the beginning," he says. "And we'll be stocked up with new equipment. Everything will be ready. And we'll be better. A better product."
Rimrock resident Ryan Koek, who worked as a cook at Robbie's, has been working at the Marketplace Café in Sedona since the fire. Koek has "pretty regularly" kept in touch with Satran the past several months and looks forward to again work at Robbie's.
"I'm excited. I can hardly wait," Koek says. "Can hardly wait to get back into business."
Robbie's Restaurant is located at 3460 E. Beaver Creek Road in Rimrock. Robbie's will be open from 11 a.m. to 9 p.m. daily. Robbie Satran can be reached at robbiesrimrock@yahoo.com or online at https://www.facebook.com/RobbiesRestaurantAZ/info.
-- Follow Bill Helm on Twitter @BillHelm42 and Instagram @VerdeValleyNews