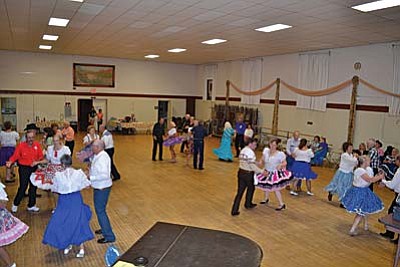 Originally Published: September 18, 2014 10:41 a.m.
Square Dance lessons begin
Sept. 23
The Cottonwood Roadrunners Square and Round Dance Club is once again offering beginning square dance lessons starting on Tuesday at 6:30 p.m. at the Cottonwood Civic Center in Old Town. Square dancing is not only a great way to get some low impact exercise, while simultaneously stimulating the brain, but also a super way to meet new people, and have a heck of a lot of fun.
The first lesson is free, and $5 a session thereafter. Young people, including elementary school aged children are welcome as well, and they only pay $2 a session. For further information contact Connie Phillips at 300-2448 or Boyd Copper at 300-0891.
Camp Verde High School parade, Homecoming Friday
Sept. 19
School may not be in session Friday, but for Camp Verde High School, Friday means Homecoming. And everybody is invited.
This year's Homecoming Parade starts at 10:30 a.m., as parade floats leave Ace Hardware and travel along Main Street toward Wingfield Plaza.
Following the parade, the floats will park along the downtown soccer field, as CVHS will hold an "old-school" carnival from 11 a.m. to 1 p.m. with activities sponsored by the school's various clubs. The CVHS junior class will sell hot dogs and drinks, and the school's Native American Club will hold a bake sale.
Of course, Homecoming is really about football. And announcing the school's Homecoming queen and king. CVHS will host the Williams Vikings at 7 p.m. The halftime events include the parade floats and the crowning of the homecoming queen and king.
After the game, the Homecoming dance will be held in the cafeteria at the Philip England Performing Arts Theater in the multi-use complex.
VFW Ladies host POW/MIA ceremony
Sept 19-20
On Friday the Post 6739 Ladies Auxiliary will hold a POW/MIA Table Ceremony at 5 p.m. There will be a
Dinner following. We will be serving spaghetti, garlic bread and a green salad for a $6 donation. There will be Karaoke by Heidi. Proceeds will go to Veterans & Family Support.
On Saturday, they will have a lunch. We will be serving Pork Loin, Mashed Potatoes, Gravy, Vegetables, Salads and lots of sides for a $6 donation. We will serve starting at noon. Members and guests are welcome. Proceeds go to Cancer Aid & Research.
Return of the Root Doctors at RIOT
Sept. 21
Years ago, in an old Town Cottonwood Coffee House, the Root Doctors had their first performance. Some locals say it was 23 years ago. Nevertheless, many fans came out to hear their special brand of blues rock. The Root Doctors played in the 10/12 Lounge, the Book Loft in Sedona, in Flagstaff pubs, the Logger Blues Fest, and the June Bug Fest In Payson. Then they devoted years to raising their families and to education. Gary Morgan, of the Knuckleheads, and Ray DeSylvester of Sweet Baby Ray, are primed for their reunion at the RIOT. Often referred to as the school teachers with the Blues, Gary and Ray have a lively yet relaxed show planned for Sunday from 1 to 4 p.m. While enjoying the festivities at the Thunder Valley Rally this weekend in old town, saunter on over to the spacious patio at The RIOT. Order yourself up a tall brew and give a listen to the Root Doctors.
Treatment of Chronic Pain
Sept. 24
"Treatment of Chronic Pain" is the topic of the September Take Note: Cottonwood lecture, which is sponsored by Verde Valley Medical Center. The Wednesday lecture features pain management specialist Thomas Valente, M.D. The free presentation is from 5 to 6 p.m. at VVMC, 269 S. Candy Lane, conference rooms B and C. To R.S.V.P. or for more information about this event, call (928) 639-6551.
Sedona Museum hosts Iris Dig
Sept. 25
The gardens at the Sedona Heritage Museum are overloaded with heritage irises. The public is invited to come help thin the iris beds and take some iris bulbs home with them when museum volunteers host an iris dig on Thursday at 9 a.m. Anyone interested in digging irises should arrive prepared with a shovel, bag, hat, sunscreen and water. Volunteers will be teaching how to dig, thin, store and re-plant the bulbs. Excess bulbs will be available in the Museum Gift Shop for sale.
The Sedona Heritage Museum is at 735 Jordan Road in Uptown Sedona. Call (928) 282-7038.
MATFORCE Dump the Drugs event
Sept. 27
A Dump the Drugs event will be held on Saturday at six locations county-wide, including Prescott, Prescott Valley, Chino Valley, Cottonwood, Sedona and Camp Verde. MATFORCE and area law enforcement are joining with the National Prescription Drug Take-Back Campaign to gather and safely dispose of unwanted prescription and over-the-counter medication.
In the Verde Valley, prescription and over-the-counter medications can be dropped off between 10 a.m. and 2 p.m. at the following locations: Sedona City Hall Vultee Conference Room, 102 Roadrunner Drive in West Sedona; Cottonwood Police Department, 199 S. Sixth St.; and the Camp Verde Marshal's Office at 646 S. First St. Call (928) 708-0100 or visit matforce.org.
JCSVV presents 'The Gates are Closing'
Sept. 28
The Jewish Congregation of Sedona and the Verde Valley presents "The Gates Are Closing," a play by well-known poet and playwright Merle Feld, and directed by John Reynolds, in a staged reading by members of the Jewish Community of Sedona and the Verde Valley on Sunday at 3 p.m. at the synagogue, 100 Meadowlark Drive in Sedona, south of the Chapel Road roundabout off Route 179.
 "The Gates Are Closing" tells the stories of 10 people meeting to pray on Yom Kippur. Highly evocative and powerful, the story weaves the themes, melodies, and prayers of Yom Kippur through the lives of a variety of characters, each one yearning for forgiveness, wholeness, peace. For more information call the synagogue at (928) 204-1286.
Community Solutions forum on drug abuse
Oct. 1
MATForceand the Greater Sedona Substance Abuse Committee invites you to help the fight against drug abuse by attending the Community Solutions Forum in Sedona. The forum will be an open and interactive discussion generating ideas to improve drug prevention, intervention, treatment and support for recovery in our community.
Share your suggestions at the Drug Abuse Community Solutions Forum from 5:30 to 7 p.m. at the Sedona Public Library, 3250 White Bear Road. Light refreshments will be served. For more information call (928) 708-0100 or visit matforce.org.
Red Rock Loop History Tours
Oct. 2-4
There are a few remaining tickets for the Sedona Heritage Museum's popular Red Rock Loop history tour, with limited seats available. The tour will visit historic sites, homesteads and buildings while following the Red Rock Loop road. Tour guide Paul Thompson, grandson of Oak Creek Canyon's first permanent Anglo settler J.J. Thompson, grew up in this area and will share history and stories about 'Red Rock' pioneers.
Tours in luxury coaches are from 9 a.m. to noon. Tickets are $50/Museum members, and $55/non-members and available for purchase at the Museum, 735 Jordan Road, or by calling (928) 282-7038.
Search for and Rescue Your Inner Child
Oct. 4
Humans come into this world as amazing little beings ready to learn, explore and grow. They are free spirits who believe anything and everything is possible. Pat Miner, founder of the Women's Self-Discovery Counseling Center, will present a workshop, "Search and Rescue Your Inner Child," Saturday at the Old Town Center for the Arts, Studio B from 8:30 a.m. to 4 p.m. with a break for lunch. The cost is $75. Register by Sept. 27 and pay $65. Call 928-300-5565, Monday through Friday, 9 a.m. to 6 p.m. to register.
Fort Verde Days all about fun
Oct. 10-12
The 58th annual Fort Verde Days is set for the second weekend in October and includes the parade, carnival, quilt show, activities at Fort Verde State Historic Park, live music, mechanical-bull riding contest, pie-eating contest, food and much, much more. This year's parade marshals are Youth Volunteers. The theme is "Young Fun, Old Fun, Anything Fun.
For information, visit http://www.campverdepromotions.org/fort-verde-days.
Sign up now for Toys for Tots golf tourney
Oct. 11
The annual Toys for Tots Golf Tournament takes place Saturday at Verde Santa Fe Golf Course. The format is a 4-person team scramble. $85 covers green fees, goodies, coffee and a great lunch. Bring a $10(at least) unwrapped toy and receive a free raffle ticket. There are opportunities for more raffles, silent auction and a CAR for a hole-in-one! Proceeds provide more toys for the Christmas parties for our Verde Valley kids in need.
Organize your own team or enter as a single and we will put you on a team. Forms are available at the Verde Santa Fe course, or see verdevalleytoysfortots@gmailcom or call Krys at 649-3747.
Award-winning author/filmmaker teaches at writer workshop
Oct. 11
Although Bill Myers will be in the middle of filming his latest project in California, he will fly to Arizona and teach fiction and nonfiction sessions at the Northern Arizona WordWeavers annual teaching day Saturday from 9 a.m. to noon at Spirit of Joy Lutheran Church, 330 Scenic Drive, Clarkdale, Clarkdale.
As an author and filmmaker Myers' work has won 70 national and international awards including the C.S. Lewis Honor Award. For more information about Myers, visit www.billmyers.com. To register, contact Alice Klies at alice.klies@gmail.com or (928) 300-9700. Cost is $7 for members and $15 for nonmembers.
Enroll at Cottonwood Head Start
Become a Head Start kid. There are still opening at the Cottonwood Head Start. Enroll your child in the free preschool program today. Your child will enjoy learning social and emotional skills, school readiness and free meals. Head Start is special-needs inclusive. Stop by 270 E. Mingus Ave., or call 9928) 634-8236 for information.
More like this story