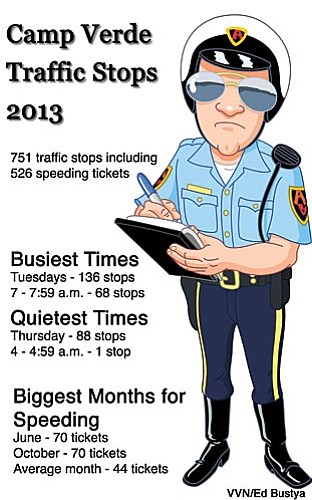 Originally Published: September 20, 2014 2:38 p.m.
CAMP VERDE - In 2013, the Camp Verde Marshal's Office stopped 751 motorists for traffic violations. The stops resulted in 526 speeding tickets, an average of about 44 speeding tickets each month.
Apparently, June and October were the most popular months to drive in excess of the speed limit, as 70 motorists were ticketed for speeding in each of those months.
Only 10 vehicle operators were ticketed for speeding in January 2013. Perhaps cold cars take too long to exceed the posted speed limits?
Tuesdays in 2013 yielded the most traffic stops, with 136, followed by Mondays with 135, Saturdays with 107, Wednesdays with 100 and Sundays with 93. Rumor has it that 75 of the 93 Sunday violations came during football season.
Between 7 a.m. and 7:59 a.m., 68 motorists were stopped for traffic violations in 2013, the most of any hour in the day. Between 10 a.m. and 2:59 p.m., CVMO stopped the second, third, fourth and fifth most traffic violators.
In 2013, only one person was pulled over for a traffic violation during the 4 a.m. hour.
According to Marshal Nancy Gardner, criminal speeding is driving 15 miles faster than the posted speed limit in a residential zone, 21 miles faster than the posted speed limit in a non-residential zone. Gardner also says CVMO observes "zero tolerance" when it comes to speeding in a school zone.
"Every mile over the speed limit can cause greater harm," she says. "You're putting people's lives in danger."
Excuses, excuses
George Washington once said, "It is better to offer no excuse than a bad one."
Unfortunately, not everyone will heed his advice.
CVMO recently shared some of the more creative excuses people have used to get out of receiving a traffic violation. Deputy Bowers remembers one person he stopped for speeding.
"I'm still paying on the last ticket," the motorist said. Other excuses Bowers has heard include: "Officer, I'm in a hurry to get home. I have to pee!" and "I'm almost out of gas and I was trying to make it home."
Most disconcerting is an attempt to justify not wearing a seat belt.
"I want to be thrown from the vehicle, not trapped inside," the driver told Bowers.
Another motorist, just as honest, certainly more humorous, admitted, "I forgot to put it on ... until I saw you."
But another officer wins the prize for sharing an excuse that defied response:
"My neighbor told me about being pulled over by CVMO while bringing horse semen up from Phoenix and telling the officer, and him not knowing what to say."
The officer did not write the ticket. And yes, the motorist was telling the truth.
CVMO School Resource Officer Jennifer Zwak remembered a motorist whose response should be a lesson to people who don't watch what they eat.
"I have been on the Paleo diet and I just ate Taco Bell," the motorist said to Zwak.
Following the script?
CVMO Deputy Dan Jacobs must feel like he has cornered the market on cliché excuses. 'I have a medical appointment," "My kids are late for school," and "I'm late for work" are some of the reasons folks have given him.
So far, nobody has told him, "My dog ate my homework."
-- Follow Bill Helm on Twitter @BillHelm42 and Instagram @VerdeValleyNews
More like this story