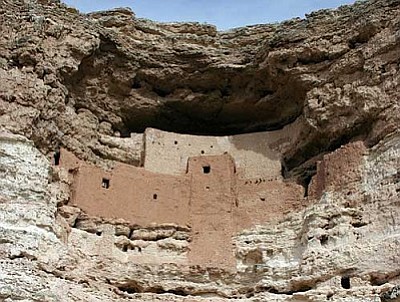 Originally Published: September 26, 2014 10:09 a.m.
Prescott Forest
PRESCOTT -- Prescott National Forest will join other public lands agencies in offering a fee-free day on Sept. 27 in conjunction with the 21st annual National Public Lands Day (NPLD). NPLD is the nation's largest hands-on volunteer effort to improve America's public lands. The event started in 1994 with three federal agencies and 700 volunteers. In 2013, more than 175,000 volunteers took part in events at sites in every state.
This year's theme is Helping Hands for America's Lands, and the Forest Service will highlight projects that engage youth; are Wilderness related in celebration of the 50th anniversary of the Wilderness Act of 1964; and connect tribes with ancestral sites on public lands.
Mingus Day Use
Mingus Lake Day Use
As part of this nationwide event fees will be waived at the following sites:
Lynx Lake Recreation Area: North Shore, South Shore and Lynx Creek Ruin
Granite Basin Recreation Area: Cayuse, Wekuvde, Boat Launch, Playa and Metate
Thumb Butte Recreation Area
Alto Pit OHV Recreation Area: Day Use Site
For information on events going on in Arizona visit the National Public Lands Day web site at http://www.publiclandsday.org/.
Coconino Forest
SEDONA -- Coconino National Forest's Red Rock Ranger District will be waiving all standard amenity fees on Saturday.
Fees will be waived for Sept. 27 for National Public Lands Day. The fee waiver includes all areas that require the Red Rock Pass, which provides access to the Palatki and Honanki Ruins, the V Bar B Cultural Site, and approximately 300 miles of multiple-use trails.
The Forest Service offers six fee-free days in honor of Martin Luther King Jr. Day, National Get Outdoors Day, National Public Lands Day and Veterans Day Weekend. Fees are waived for day use areas, such as picnic grounds, developed trailheads and destination visitor centers.
For more information concerning the fee waiver weekend and events on the Red Rock Ranger District, please call 928-203-7500.
National Parks
CAMP VERDE - National Park Service units throughout the country will waive entry fees on Saturday in celebration of National Public Lands Day. In the Verde Valley, the National Park Service will waive entry fees at both Montezuma Castle and Tuzigoot National Monuments. Additionally, Western National Parks Association will offer a 15-percent discount off all items in the visitor center bookstores, including Native American crafts made by Hopi, Zuni, Acoma, Yavapai, Apache, and Tohono O'odham artisans.
Montezuma Castle is located at 2800 Montezuma Castle Road in Camp Verde. Tuzigoot is located at 25 West Tuzigoot Road in Clarkdale. For more information, please call 928-567-3322, extension 0.
-- Contact the reporter at jhutchinson@verdenews.com