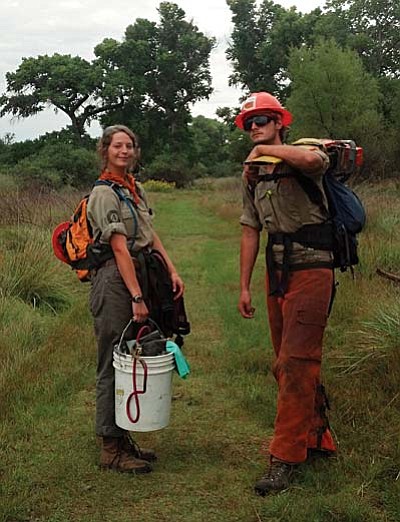 Originally Published: September 27, 2014 2:25 p.m.
This fall marks the start of VWRC's third field season implementing riparian restoration work throughout the Verde Watershed. VWRC is a public/private partnership that brings together pubic land managers, private landowners, local municipalities and non-profits organizations that are working collaboratively to improve riparian habitat by controlling invasive plants and encouraging native plant recruitment along the Verde River and its tributaries.
Field crews from The Vetraplex (local Veterans) and AZ Conservation Corps (young adults) have completed two weeks of training and have started to remove giant reed and salt cedar plants from lower Oak Creek.
During the next 6 months field crews will also work on restoration project on the Upper Verde River near the headwaters and between Perkinsville and Sycamore Canyon and on the Verde River in Clarkdale and Cottonwood on private properties, Town of Clarkdale and in the Jail Trail area at Dead Horse Ranch State Park.
Field crews will be removing four priority plants that threaten the health of our river system, they include: saltcedar, tree of heaven, Russian olive and giant reed.
This year's field crews are supported by funding from the Walton Family Foundation, AZ State Forestry, US Fish and Wildlife Services, Coconino National Forest, the National Fish and Wildlife Foundation, AZ Conservation Corps, Yavapai County Resource Advisory Council (RAC), Yavapai County Community Foundation and AZ Game and Fish, Friends of Verde River Greenway as well as from private donors from throughout the community.
To learn more about this project visit www.verdewrc.org. If you are a private landowner that lives along the Verde River or its tributaries please call Laura Jones with Friends of Verde River Greenway at (928) 451-6860 to see how you can participate in this important project.
If you see the crews in your neighborhood, stop and say hello and see first-hand the work they are doing for a healthy Verde Watershed.