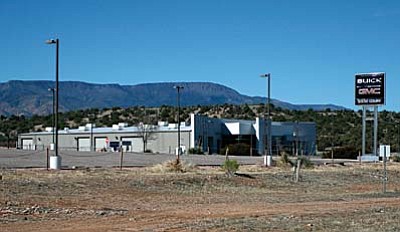 Originally Published: April 1, 2015 7 a.m.
At approximately 4:52 p.m. Tuesday, March 31, the Town of Camp Verde removed item 9 from its April 1 regular session agenda.
The agenda item pertains to considering a Tolling Agreement and First Amendment to the Coury Annexation and Development Agreement, which would delay action taken by either the Town or Coury.
"As the day progressed, it was clear to me that we were more comfortable holding the item," Town Manager Russ Martin said. "The best plan is to take a couple more weeks."
Though not certain, Martin says he hopes to have the agenda item back to council at its April 15 regular session.
Council will still meet for its regular session at 6:30 p.m. Wednesday in council chambers, 473 S. Main St. #106. Other items on the agenda include:
--Possible approval of Resolution 2015-935, approving the abatement of a dangerous structure.
--Tania Simms, executive director for Verde Valley Habitat for Humanity, will update council on past, current and future projects in the Verde Valley.
--Council will discuss proposed legislation by the 52nd state legislature during the legislature's Jan. 12 regular session.
--Council may approve a contract with Merrick & Co., DBA McLaughlin Whitewater Design Group for engineering, initial draft of improvements, sketches and technical data related to a River Recreation Master Plan for the Town.
More like this story