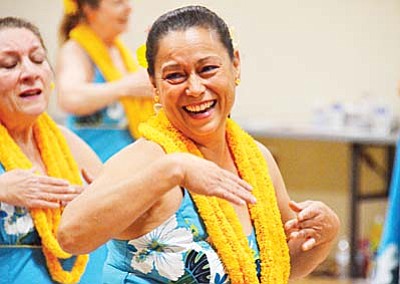 Originally Published: April 16, 2015 10:39 a.m.
What's Happening 4-17-2015
Beginner Women's Hula Class - Open to those 15 and older. Learn basic hula movements plus Hawaiian language, culture, and values. Mondays from 7 to 8 pm, beginning May 4 until June 15.
Hula class and Hawaiian
language at Civic Center
Beginner Women's Hula Class - Open to those 15 and older. Learn basic hula movements plus Hawaiian language, culture, and values. Mondays from 7 to 8 pm, beginning May 4 until June 15. Fee is $48 for the six week session, payable in full at the first class. Classes held at the Cottonwood Civic Center, 805 N. Main Street. Call (928) 639-4683 for more information.
Hawaiian Language Class - Open to those 16 and older. Learn Hawaiian pronunciation, simple sentence structures, and vocabulary. Wednesdays from 4 to 5pm beginning May 27, 2015 until July 15th.
Fee is $8 per class.
Classes held at the Cottonwood Civic Center, 805 N. Main Street. Call (928) 639-4683 for more information.
Cottonwood Community Clean-Up Day
The City of Cottonwood is sponsoring a 2015 Clean-up day Saturday April 25, 8 a.m. until 5 p.m. Disposal is free to all residents.
There will be a charge for disposal of box springs, mattresses and tires.
But most household items will be collected free, including bagged trash, appliances, furniture and yard trimmings.
No loose trash, junk cars, dead animals, Ni-Cad batteries or auto batteries.
Also no hazardous materials, liquids or commercial disposal.
The disposal site is located just past the cottonwood airport, behind the fire training center at 1142 W. Mingus Ave.
The transfer station will be closed that day. Follow the signs.
New exhibits at Corner Gallery in Clarkdale
You need not be into chess, checkers, quilting, nor paintings to enjoy this exhibit. The Corner Gallery in Clarkdale has an exhibit of the art of David Boles, Sam Hightower, Becky Russell, the late Eleanor Mead, and a huge collection of Marsha Foutz's hand-built ceramic chess and checkers sets, spanning from 1987 to 2015.
Each of Foutz's chess sets has a theme (laugh-out-loud funny) and the degree of workmanship is astounding!
The gallery is open Wednesday through Friday, 11 a.m. to 4 p.m., and Saturday, 11 a.m. to 2 p.m., at 921 Main Street, Clarkdale.
On exhibit also is the incredible "Clarkdale" quilt made by Becky Russell.
This exhibit runs through May 1st.
Holocaust Remembrance Day this Sunday
The Jewish Community of Sedona and the Verde Valley will commemorate Yom HaShoah with a Holocaust Remembrance Program on Sunday, April 19, 2 p.m., followed by a reception at 4 p.m. to meet Holocaust survivors.
This program, open to the public, is sponsored by the Jewish Community of Sedona and the Verde Valley in partnership with the Martin-Springer Institute at Northern Arizona University and Heichal Baoranim Congregation from Flagstaff. Six candles will be lit by survivors and children of survivors in memory of the six million Jews who died in the Holocaust.
Students from Mingus Union High School and Anti-Defamation League and representatives from Northern Arizona University Holocaust studies will do a variety of readings. Soloists from Flagstaff and the Shalom Singers of the JCSVV will provide some musical interludes. The program will end on a note of hope for the future.
This commemorative service meets at the Jewish Community of Sedona and the Verde Valley, 100 Meadowlark Drive, Sedona.
For more information call 928 204-1286 or visit the JCSVV web site at www.jcsvv.org.
Spring yard sale at Spirit of Joy Lutheran Church
Spirit of Joy Lutheran Church announces its spring yard sale April 24-25, 8 a.m. to 2 p.m. Come to the church courtyard at 330 Scenic Drive, Clarkdale and browse the furniture, household items, tools, books, and much more. See http://sojaz or call 634-4102 for further info.
Teacher-Ranger-Teacher Program Summer 2015
Montezuma Castle/Tuzigoot National Monument's Outreach Division is pleased to announce an opportunity for two local teachers to infuse their teaching skills with NPS-based Science, Technology, Engineering and Mathematics (STEM) education resources.
The teacher-ranger-teachers will get a firsthand look at the natural and cultural resources that make these locations unique, while they spend seven weeks at our monuments. They will be asked to develop at least one lesson plan and share what they learned in their classroom and with their colleagues. They will receive a $3000 living expense stipend and earn three graduate credit hours from University of Colorado, Denver, upon the successful completion of the program.
The session is scheduled to start June 8. The work week is Monday - Thursday, with Friday fieldtrips.
For more information about the program and an application, please contact Mary Ontiveros electronically at Mary_Ontiveros@nps.gov or by phone at 928-567-5276 x228.
Additional information is also available at www.nps.gov/moca, our website.
An introduction to genealogy tools and research
Who is in your family tree? Friday, May 8, 10 a.m. to noon, Mike Sweeney, of the Family History Center, Cottonwood, will demonstrate the basics of genealogical research and explain some sources of information. The program takes place in Camp Verde Community Library's Large Print Room. Following Mr. Sweeney's presentation, Library Specialist, Gerry Laurito, will show how to access genealogical resources available at the library.
Over the past year, Camp Verde Community Library has been creating programs to assist and support people interested in a variety of writing and publishing projects. This program introduces genealogy research in support of the May 1, 2014 Memoir Writing Workshop. Those interested in memoir writing will want to attend.
For more information about this program, or any of the other upcoming library events visit us on the web at http://www.campverde.az.gov/government/library/ or call us at 928-554-8380
Earth Day events in Oak Creek Canyon and Sedona
In celebration of our blue planet, the Oak Creek Watershed Council will host several events over the course of two days. Wednesday, April 22, the Friends of Oak Creek will provide educational outreach at the Sedona Wetland Preserve from 8:30-10:30 a.m. and later that day at Weber's IGA Food and Drug in the Village of Oak Creek from 1-4 p.m.
Also, a creek-side clean up event will take place on Thursday, April 23, 9 a.m. to noon at Indian Gardens Café and Marketplace in Oak Creek Canyon.
The popularity of Oak Creek as a recreation destination has led to an increasing litter issue on Oak Creek over the last few decades. Unfortunately, the amount of trash left along the creek is an indirect contributor to the problem of high amounts of E. coli.
"We try to host a few cleanups and educational outreach events every month," said Bob Kampfe, Volunteer Coordinator and OCWC Board Director, "it makes a huge difference when we get locals taking pride in keeping the place called home beautiful."
The trash attracts wildlife such as raccoons and skunks, who linger and defecate right next to the creek, adding to the E. coli concentrations in the water. High amounts of E. coli in the water indicate the presence of bacteria such as giardia or cryptosporidium. This type of bacteria makes people sick if swimming in it. Trash cleanups help to make the water safe to swim in while preserving the natural wonders that surround Sedona.
"Volunteers can provide help with clean up, or they can simply assist with the educational outreach table," said Kampfe, "Also, we encourage our volunteers to provide feedback on which areas in the watershed they would like us to focus our efforts."
The OCWC will provide pickers, gloves, safety vests, buckets, and trash bags to our volunteers. Volunteers meet at Indian Gardens Marketplace to receive a safety talk and review archaeological sensitivity for the area.
Please email Bob Kampfe bob@oakcreekwatershed.org for more volunteer opportunities with the OCWC!
For information on how residents and visitors can learn more about the stewardship of Oak Creek, visit http://www.oakcreekwatershed.org
Transition workshop for combat veterans
The Veterans of Foreign Wars, Post 7400, at 705 E. Aspen St., Cottonwood has obtained a number of Postdeployment User Guides for free distribution to recently returned veterans. These guides were designed to assist the veterans in transitioning back into civilian life. This handbook was developed by the Naval Health Research Center, San Diego to aid the vet in many areas, including mental & physical health, recreation, financial & legal affairs.
These guidebooks are available on a first-come-first-served basis at the VFW Post Monday, Tuesday & Thursday mornings. Veterans are asked to bring their DD-214's, to show service in Iraq of Afghanistan anytime during the post-9/11 period.. If a family member wishes to acquire one to help a family veteran, we must have the proof of his/her service.
Contact Ron Luce or Tom Nester at 634-9769 with questions.
Here's your chance to say goodbye to Rancher Joe
Rusty's Morningstar Ranch and Verde Valley Church of the Nazarene celebrating Autism Awareness in memory of Rancher Joe. He passed away on April 30, 2014, and had lived at RMR for over 20 years. "Lunch with Friends" is serving home-made soups & Navajo Tacos on Saturday, April 18, 11 a.m. to 2 p.m., at 1710 Hwy. 260, Cottonwood.
More like this story