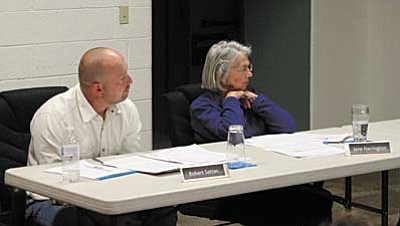 Originally Published: April 18, 2015 12:55 p.m.
RIMROCK - Thursday, Carol Keeton and Jerry Taylor were joined by two new board members at the monthly Montezuma-Rimrock Fire District Board Meeting. Robert Satran and Jane Harrington sat in on their first meeting as board members.
Satran who is the owner of Robbie's Restaurant in Rimrock, walked in with two pizzas and the fire fighters in attendance immediately said, "Looks like we won't need to eat on board meeting night anymore."
Fire Chief Terry Keller and the board caught their new board members up on district happenings. Chief Keller told Satran and Harrington about the discussion of short-term shared services between MRFD and the Camp Verde Fire District.
Keller also informed the new members about the ongoing discussions about the fiscal year 2015-2016 budget, which the board expects to finalize in May.
The board is also considering the possibility of hiring an operations chief, which like Keller's position, would be a shared services position between both districts.
Keller said this issue will be resolved once the budget is finalized.
Eric Ostler, who was not present at the meeting, was awarded with the Employee of the Month award for the Montezuma-Rimrock Fire District. Keller said Ostler was very enthusiastic about his job and said he will be participating in paramedic training beginning June 1.
The next Montezuma-Rimrock Fire District Board Meeting will take place at 6 p.m. Thursday, May 21 at Fire Station 71, located at 3240 East Beaver Creek Road in Rimrock.
-- Follow Greg Macafee on Twitter @greg_macafee