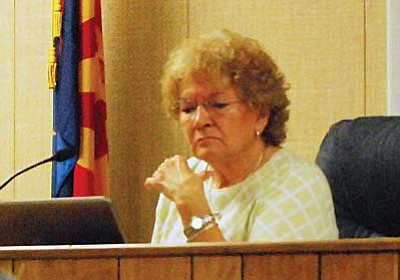 Originally Published: August 6, 2015 1:53 p.m.
CAMP VERDE - At Wednesday's regular session, the Camp Verde Town Council voted to rescind the July 15 motion that called for a special recall election of Camp Verde Vice-Mayor Bruce George.
With council member Carol German not present and George abstaining due to conflict of interest, four council members voted 'I' in agreeance to cancel the recall. After explaining why she could not vote in favor of the motion, council member Jackie Baker voted 'Nay.'
"I have gotten a number of phone calls about rescinding this election and most of the concerns that were expressed to me was that the voters, the citizens themselves, felt their rights were not being protected," said Baker. "I have expressed that in the past and I just felt like I couldn't support [rescinding the recall]."
Some community members at the meeting were upset because they were not given an opportunity to discuss council's decision in a public forum. According to Mayor Charlie German, placing the item on the consent agenda was "a formality."
"We were following legal counsel's advice," said German. "We were being transparent by putting this on the agenda. We felt it was necessary to rescind [the recall] by a vote of council."
During council's July 29 executive session, Camp Verde Town Attorney Bill Sims announced that he would submit a letter to the Yavapai County Elections Board to cancel the upcoming special election to recall George because signed petitions submitted by Camp Verde resident Cheri Wischmeyer did not indicate whether petition circulators were paid or volunteers.
In an Aug. 3 email from Lynn A. Constabile of the Elections Board to Town Clerk Virginia Jones, Constabile stated that she did receive Sims' letter "and [I] have removed your recall election from my list for this November's election."
Though the petition forms Wischmeyer received from the Town did not require that information, a statute revised on July 3 mandated recall elections to strictly comply with all statutory requirements.
"Citizens were really concerned about having signed petitions and then no one was hearing the citizen's decisions," said Baker. "People thought they would get a say, and those says were taken back with the rescinding of the recall and [the people's] opinions weren't heard."