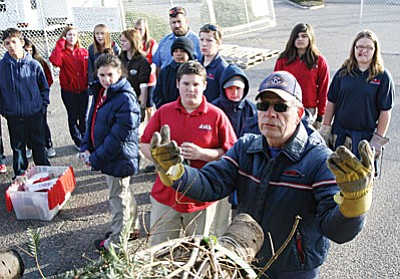 Originally Published: December 1, 2015 11:39 a.m.
CAMP VERDE - One of the Camp Verde Kiwanis Club's major fundraisers each year is the selling of Christmas trees. This is the 35th year the Camp Verde Kiwanis Club has used this fundraiser to raise money for community projects.
The local Kiwanis will offer Douglas, Noble, and Nordmann firs this year. The tree sizes vary from two feet to nine feet, with prices ranging from $20 to $60, depending on tree variety and size.
Some of the programs that receive money from this fundraiser include schools, Key Club, Builders Club, B.U.G.S, or Bringing Up Grades, Little League and AYSO scholarships. The Camp Verde Kiwanis Club also purchases dictionaries for each third grade student in Camp Verde schools. They also give scholarships to Camp Verde graduates, support school music programs, and Adopt-A-Family.
Students from American Heritage Academy will help the Kiwanis club unload the trees the day before the lot opens. The students have helped in recent years, and their assistance is much appreciated, said David Kaminsky, the Christmas tree committee chairperson for the Kiwanis.
Last year the Kiwanis raised approximately $3,000 in profit, after paying for the trees they had transported from Oregon. This year they have bringing in 200 trees from the same tree farm in Oregon.
"When we were younger, we used to go up to a tree farm in Flagstaff and cut them down ourselves. But now that we are older, this was a better solution," said Kaminsky.
Kaminsky's advice for keeping a tree green for months is to make sure water stays in the tree stand.
If asked, the Kiwanis will trim the bottom of the tree when purchased to open the pores of the tree to make it easier for water to be soaked up.
"Some people say to add things like molasses to the water, but there's no need for that. Plain water is actually better for the tree," said Kaminsky.
The Kiwanis Christmas tree lot will open at 1 p.m. Wednesday, Dec. 2. The hours will be Wednesday through Friday, 1 p.m. to 6 p.m., Saturday, 10 a.m. to 6 p.m., and Sunday, noon to 5 p.m.
The lot will be set up in the Bashas' parking lot in Camp Verde.
For more information, stop by the lot or call (928) 567-6203.
-Follow Aryssa Carvalho on Twitter @aryssamashon and on Facebook.com/cvbugle
More like this story