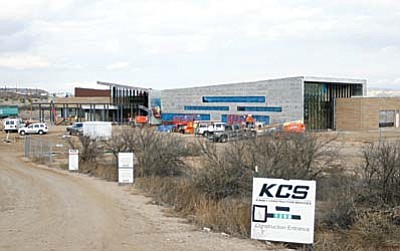 Originally Published: December 26, 2015 9:43 a.m.
CAMP VERDE - An ongoing issue this year in the Town of Camp Verde has been the attempted recall of council members.
First, Vice Mayor Bruce George was the target of a possible recall by Camp Verde resident Cheri Wischmeyer and her group Camp Verde for Good Government.
Also involved in this group is former Town Clerk Debbie Barber.
After a legal battle between the Town and the political group, an election to recall the vice mayor was scheduled for March 8.
And the Town was required to pay $29,500 in legal fees.
Recall packets have also been picked up, but not yet turned in, to replace council members Brad Gordon and Robin Whatley.
Camp Verde's Honest Step for Growth was the organization that picked up those packets. If the group gets enough signatures, a recall can be held against Gordon and/or Whatley.
"I've realized that the town can continue to move forward and get projects going and completed, if council concentrates on the job at hand. Regardless of the firestorm," said Whatley.
Mayor Charlie German said that allowing people the opportunity to recall their council members is a right he would never want to take away.
But German says that when there are many recalls, it looks poorly on the political aspect of the town, and causes people to not want to invest here.
"Political stability is what investors are looking for, not the instability or uncertainty of a community that hasn't decided what its future needs may be," said German. "It is my belief that most of the 10,800 residents of whom council represents are pretty encouraged and pleased by the improvements which they are beginning to see occur within the boundaries of our community."
German also said that voters will decide if the council and staff projections for future investors are appropriate.
This has been a year of change and growth for Camp Verde. And also a year of political unrest.
Stay tuned for 2016.
-- Follow Aryssa Carvalho on Twitter @aryssamashon and on Facebook.com/cvbugle
CAMP VERDE - Overall, members of the Camp Verde Town Council said they are proud of what they have accomplished as a team of leaders for the town.
The progress of the new Verde Valley Medical Center, the new community library building, and the opening of several new businesses throughout town are a few of the reasons that council can be hopeful as it collectively moves into 2016.
"I am delighted to see how this investment in Camp Verde by Northern Arizona Health Care and Verde Valley Medical Center has sparked renewed interest in the economic growth of [the town]," said Mayor Charlie German.
Both the new library building and the medical center are expected to open in the late spring of 2016.
In 2015, Camp Verde Town staff started a new Geotourism Program and website.
New businesses, such as the two dealerships on SR 260, several small businesses in Wingfield Plaza - and soon, an Italian restaurant on Main Street.
The Verde Valley Archaeology Center plans to relocate its facility in the near future, said German. This will require an additional water line near Homestead Parkway.
The Sesquicentennial Park project began this year, and will continue to grow in the upcoming year.
Arizona State Parks has taken an interest in land around Camp Verde, and in the near future will begin developing recreational park usage for visitors and residents.
In 2016, the Town of Camp Verde's Municipal Court room will move to rooms 206-208 in the town hall complex. This should lead to improvement to the court system.
Council member Jackie Baker said she that she is happy that streets are getting repaved, and she would like to see more of that in the upcoming year. Vice Mayor Bruce George agreed with her.
"I am also happy to see the streets on Arnold Terrace and Third, and also the other streets paved. It seems like it took a long time to see it get done, but it finally was," said George. "I believe that Camp Verde is on the verge of really 'taking off.' We are seeing that now, and will continue to see it next year."
-- Follow Aryssa Carvalho on
Twitter @aryssamashon
and on Facebook.com/cvbugle