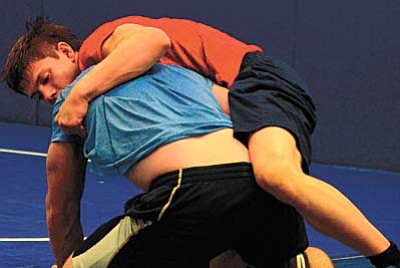 Originally Published: February 5, 2015 10:24 a.m.
Camp Verde High School wrestling has been dominant as usual this season. The Cowboys have won the Division IV state championship the last two years in a row. They have a great chance to make it three in a row this year.
This Saturday the team will compete in Division IV sectionals. The tournament will be Saturday in Buckeye.
Head coach Tracy Tudor said it's simple for his team to do as well as it should in sectionals.
"We need to go down there and wrestle and do the things that we do," Tudor said. "We've proven it the whole year how good we are. We took a partial team to the Mile High Challenge. I think we could have won Mile High if we took a whole team. But, we knew what we were doing. Prescott was third at Mile High and we took Prescott handily at the Page tournament. We are that kind of a team. If we go into sectionals with a belief that we are the best, then we will be the best. Because we have the talent to do it."
The top four in each weight class from sectionals move on to the State Tournament. Last year the Cowboys took 13 wrestlers to state. This year, Tudor said they hope to bring 14.
"Seedings can be tough for guys that aren't very experienced," he said. "Where they fall on the seeding is going to really affect us. But, there are a few guys that will have it tough. Simply because their win-loss records isn't as good as it should have been. So they put themselves in bad situations. They're going to have to win a couple of good matches to get in."
The Cowboys have some very well-known wrestlers. Those include Ryan Allred, Alex Casiallas, Hayden Uhler, among others. But, Tudor said other wrestlers can do well also.
"David Perez, our 145-pounder is pretty young," Tudor said. "But, he's really coming along. He's taking a step up on the skill level. Look for good things from David Perez. I think he has the ability to place in state."
He mentioned Curtis Corder is another one who can have success.
"Curtis Corder, our 195-pounder has a good shot," Tudor said. "He's a strong kid. He's a senior. He didn't place at state last year. But, he got us a couple wins at state. He has that capability as well."
Last year, the state wrestling tournament was different than usual because of a skin fungus that broke out. The tournament was ran without seedings.
"Things will be back to normal," Tudor said. "Maybe a little bit better because we will have those seeding advantages. Our studs will seed very well. We just need to hope and pray for good seeding on our inexperienced guys."
When the Cowboys wrestle this week, it will be two weeks since their last tournament. Tudor said overall the break has been good for his team.
"Like all the teams across the state, we've been battling sickness," he said. "We need to just keep eating healthy, keep drinking healthy. And try to get over it and be ready for Saturday."
More like this story