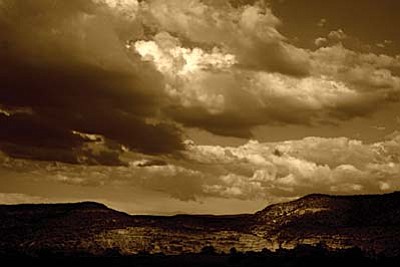 Originally Published: February 7, 2015 2:31 p.m.
Learn the ABCs of taking better photos
First and third Thursdays
Would you like to know how to improve the results you get with your digital camera? Starting Thursday, Jan. 15, at 4 p.m. at the Camp Verde Community Library, Bill Helm will teach a series of hands-on classes about taking better photographs.
The ABCs of Taking Better Photos is a fun, interactive class. Bring your camera, the manual and USB cable along with a laptop or iPad to become more familiar with your own equipment. If you don't have a laptop, well, no problem. Borrow one at the library. The classes will help you get to know your camera and learn how to be more creative with your photography.
Discover editing tips and learn how to use photo-editing software. Learn how to email and post photos online. Mr. Helm is staff reporter and photographer for the Camp Verde Bugle. He earned his Bachelor of Arts Degree in Journalism and Photography from Prescott College.
Before coming to the Bugle in March 2013, he was staff photographer with the Prescott Daily Courier and the L.A. Times and works equally well on PC or Mac systems. The ABCs of Taking Better Photos is an ongoing class that will start Jan. 15.
Classes will be held the first and third Thursday of the month from 4 p.m. to 5:30 p.m. at Camp Verde Community Library. Please call the library at (928) 554-8380 to sign up for the class or for more information.
Valentine Dance at Beaver Creek Adult Center
Feb. 13
The Beaver Creek Adult Center is hosting a Valentine Dance on Friday from 7-9 p.m.  Live music will be provided by the Beaver Creek Philharmonic. Bring your Sweetheart. Bring your friends. Dance if you'd like, or listen to the music. Light refreshments will be served. The Beaver Creek Adult Center is located at 4250 E. Zuni Way in Lake Montezuma. Call (928) 567-4556 for more information.
Valentines craft show at Mathews Resale
Feb. 7
Mathews Resale Shop is holding a special Valentines' craft show on Saturday from 10 a.m. to 5 p.m. Come get your Valentine a special treat, while sweet artisans sell their cookies, candies and a variety of finger snacks. Mathews Resale Shop is located in downtown Camp Verde at 348 S. Main St. For more information, call Mary Nordstrom at (928) 567-6951 or visit her afternoons Tuesday through Saturday at Mathews Resale Shop.
Camp Verde Parks & Recreation Winter Trips
Fridays
The trips leave in the morning from the Community Center Gym on Hollamon Street and return there later in the afternoon. Times vary with each trip. Participants must be 16 years old OR have a parent with them. Prices for each trip vary and are also based on age and range from $7 to $35 per person. Space is limited and pre-registration is required for all trips with Camp Verde Parks & Recreation.
For more information or to register contact Parks & Rec at 395 S. Main St. (928) 554-0828. Also check out www.cvaz.org or like us on Facebook.
Living with Loss support group
First and third Mondays
Any kind of loss or pending loss can make us feel separated from those things that make life worth living.
It is important to embrace hope and feel companioned in your journey. Meeting days are the first and third Mondays of every month, from 10:30 am to noon at the Verde View Senior Apartments, located at 377 W. 260 in Camp Verde. The meeting is free and is open to the public.
Light refreshments will be served. For More Information, call Julie at (928) 899-9498 or email: jkeeney@hospiceofthepines.com.
Veterans can get military escort home
The American Legion Riders of Post 93 in Camp Verde would like to escort any returning military veteran to his or her home, legion post or VFW post. We are honored that they have taken up the flight to keep all of us at home safe. We would like to parade them through their hometown in the Verde Valley, showing them how proud we are of them.
Call or e-mail with dates of return: John Linn (623) 688-6410, aldriector@yahoo.com, or Larry Robran (928) 646-9326, lrobran@mns.com.
Bible talks
Sundays
Everyone is invited to come to hear the simple teachings and doctrine of Christ. These meetings present the gospel story simply and without charge. Bible talks are held in Camp Verde on Sundays in February and March from 4 p.m. to 5 p.m. at 435 S. Main St. Room 204. For more information, call Andrea Gronley or Susan Hansen at (916) 708-1819.
Chili Cook-Off
Feb. 7
St. Thomas Episcopal Church in Clarkdale is having a chili cook-off for the Men Of St. Thomas starting at 6 p.m. across the street from the Clarkdale Post Office at 889 First North Street in Clarkdale. The public is invited to attend and help pick the best chili. Suggested donation $8. There will also be a 50/50 raffle and an auction. For more information please call Jim Gemmill at (928) 634-5121.
Enjoy STEAM activities at the Camp Verde Community Library
Camp Verde Community Library's youth library invites kids to drop by to spend some unstructured time with STEAM activities. Ask Ms. Dianna to use one of the STEAM kits centered on science, technology, engineering, arts and math themes.
STEAM kits are designed to spark interest in the sciences and arts through interactive learning, and to encourage self-initiated learning, critical thinking, creativity and problem solving. The STEAM kits include Bionic Blox, Kaleidoscope Gears, Magnetic Science, Roominate, Snap Circuits Lights, Tegu Blocks, T-Rex Skeleton Model, and MaKey MaKey.
If you don't know what any of these are, come to the Library this week and find out.
In addition to STEAM kits, kids can interact with Shpero - the robot ball, use the microscope, use an iPad to access learning apps or read Tumblebooks, or work on an art or craft project.
Camp Verde Community Library received STEAM kits from the Arizona State Library, Archives and Public Records. For more information about this or other Youth programs at Camp Verde Community Library, contact Youth Services Librarian, Dianna Manasse at (928) 554-8387 or visit http://www.campverde.az.gov/government/library/.
Free children's clinic
Saturdays
Spirit of Joy Lutheran Church continues to provide free exams and treatment for children who are not insured or who are under-insured on Saturdays 9 a.m.-noon. On Feb 28., shop in the newly-organized Revolve, which has children's clothing for infants to teens. Bring a new or gently used item you can no longer use and trade it for something extra-nice. We have shoes, dressy clothes, warm winter wear and much more. Call (928) 634-4102 or see www.http://sojaz for further information. Spirit of Joy is located at 330 Scenic Drive in Clarkdale.
Norwegian Rock Museum owner to discuss Rocks and Climate
Feb. 15
Geology and Climate of Norway will be topics presented at 2:30 p.m., Sunday, to the public at Spirit of Joy Lutheran Church at 330 Scenic Drive in Clarkdale. Call (928) 301-6105 for more information.
My Camp Verde photo contest
The Camp Verde Community Library and Camp Verde Parks & Recreation are partnering to sponsor My Camp Verde, a photo contest to showcase the many faces and images that make the community unique. Submissions of your original photograph will be accepted at Camp Verde Community Library between Monday, June 1 and Tuesday, June 30, 2015.
Please submit your photographic image depicting what Camp Verde means to you to Camp Verde Community Library by Tuesday June 30 at 6:30 p.m. Details and submission forms for the My Camp Verde Photo contest are available at Camp Verde Community Library during open hours or may be downloaded and printed from the library's website. For more information, contact Camp Verde Community Library at (928) 554-8380, visit the library's website at http://www.campverde.az.gov/government/library or drop by the library during open hours: Mondays from 8 a.m. to 4:30 p.m., Tuesdays through Thursdays from 8 a.m. to 7 p.m., Fridays and Saturdays from 8 a.m. to 4:30 p.m.
Valentine's Day at the Clubhouse
Feb. 14
The big band dances featuring the great band Sentimental Journey will again play for Valentine's Day at the Clarkdale Clubhouse on Ninth Street in downtown Clarkdale. The Clarkdale Historical Society & Museum has hosted these great dances for fifteen years on the biggest dance floor in the Verde Valley. Dancing begins at 6:30 p.m. and runs until 9:30 p.m.  This is a non-alcoholic event and refreshments are available. Admission is $10 per person. For further information call Lee & Gail Daniels at (928) 634-9346.
Alpha Course
Feb. 25
Spirit of Joy will begin an Alpha Course open to all on Wednesdays 6-8:15 p.m. at the church campus, 330 Scenic Drive, Clarkdale. Each week begins with an informal meal followed by a discussion. To register, call the church office at (928) 634-4102, or emailoffice@sojaz.co or check the website at http://sojaz.co.
The Corner Gallery presents 'Two Men and Their Art'
Thru Feb. 28
Michael L. Turner, the popular glass and Mylar artist, has invited his friend D. Allen Schauffler, a new local artist working in wood and stone, to join him in the current Corner Gallery show. Made in Clarkdale's Corner Gallery is located in downtown Clarkdale at 921 Main Street, Suite A1 and is open 11 a.m. to 4 p.m. on Wednesday, Thursday and Friday and 11 a.m. to 2 p.m. on Saturday. Turner is demonstrating his glass work in the Gallery every Saturday. For more information, please call (928) 301-9798.
Camp Verde Bingo
Tuesdays
Play Bingo every Tuesday at the American Legion Post 93, located at 286 S. Third St. in Camp Verde. Bingo starts at 7 p.m. and is open to the public. All special games, you get 75 percent of papers sold. Game 10 Coverall you get 80 percent of papers sold.
Game 17 Coverall you win at least $100 up to $500. On the fourth Tuesday of each month, if we have 45 players or more, we will pay $65 for regular games. Players that have a birthday from the previous Wednesday to the current Tuesday receive a free 6-on regular pack coupon for the following week. Bingo players who bring a friend or neighbor that is a new player will receive a 6-on regular pack coupon for the following week and the new player will receive a free dauber.
In addition to bingo, the kitchen opens at 6 p.m. serving burgers, quesadillas, chips, popcorn, drinks and much more by the post's Women's Auxiliary. Come to enjoy playing bingo every Tuesday night at the legion.
Volunteers Needed At Connections Equine Therapy Program
Feb. 10
Connections Equine Therapy is a non-profit organization located in Cornville, AZ offering Therapeutic Riding and other services designed to improve the health and wellbeing of individuals with disabilities. Volunteers are needed for horse care and to assist clients in our Therapeutic Riding Program.
Four-hour training session required, and the next training session is set for Tuesday, February 10. Must be at least 14 years old, physically fit, and commit to one shift per week for at least eight weeks.
For more information, call (928) 639-0791 or email connections@commspeed.net.
Learn to Line Dance
Feb. 11
Join the Cornville Community Association on Wednesday from 7-9 p.m. in the gym at Oak Creek School for an evening of line dancing.
Blazin' M Ranch line dancing host Adrienne Harris will teach us how, or lead those who already know.
No experience or partner required. The Association will serve light refreshments: coffee, hot tea, bottled water and cookies.
Oak Creek School is located at 11490 North Purple Sage Road in Cornville.
Mingus Mountain Republicans monthly meeting
Feb. 9
Starting at noon, Mingus Mountain Republicans will meet at the VFW Post #7400 located at 701 E. Aspen Street in Cottonwood and host Paul Lenze PhD, professor of Politics & International Affairs at NAU. The guest speaker will discuss "The ISIS Factor and the Terrorism Threat."
The 11:15 a.m. lunch will be pork loin roast as the main course for $11.
Please RSVP by email to Mingus_Mountain@hotmail.com on or before Feb. 6 or call Niles Haton at (928) 649-1643.
Mingus Ave: Willard Street to 10th Street Road
Reconstruction open house
Feb. 11
The open house will be held at the Cottonwood Recreation Center from 6-8 p.m. in the Cottonwood Conference Room. This open house is for the Mingus Avenue Road Reconstruction project from Willard Street to 10th Street, and is an opportunity for the community to ask questions, provide input or bring up concerns about the project during the early part of the design process.  Prior to this open house, flyers will be distributed along the project corridor and letters will be mailed to the property owners adjacent to the project and other entities that may be affected by the road reconstruction project. Please direct questions to Cindy Smith, Engineering Department, either by phone (928) 634-8033 or email csmith@cottonwoodaz.gov.
Latin Dance and Desserts
Feb. 13, 27
Liberty Performing Arts is hosting Latin Dance and Desserts starting promptly at 6:30 p.m. at 662 E. Hwy 89A in Cottonwood. The featured dance is Rumba. $10 per person includes a 90-minute session followed by open dancing, socializing and snacks. Contact (928) 580-4975 for more information.
Verde Valley Computer Club
Feb. 13
Internet special interest group meets at 5 p.m. with presenter Jody Wheeler. Public welcome. Donations accepted to help defray costs. Clemenceau Building, Willard Street at Mingus Avenue, Cottonwood. Website www.vvcclub.com Contact Dave at (928) 639-0106.
Networking Lunch
Feb. 19
The group holds its free meetings on the first and third Thursdays of the month at noon to give local businesses an opportunity to network with one another. The meetings have been held at Jerona Java Cafe on Mingus Avenue in the past, and are coordinated by Rosalie and Rick Malter of the Malter Institute, a stress management and natural health organization. Those interested in attending should call Rosalie at (928) 649-9343 or email royoga@cableone.net.
Teen Valentine Dance
Feb. 14
The Verde Valley Teen Center is having a Teen Valentine Dance at 345 E Mingus Avenue, Cottonwood. Admission is $2, and the dance is from 6-10 p.m. There will be a door prizes, snacks and refreshments. You can purchase tickets at the door. DJ: Aaron Anderson. Tickets can be purchased at the Teen Center in advance or at the door.
Fibromyalgia/Arthritis/Chronic Pain Support Group
Feb. 14
The group is meeting at 10 a.m. in Conference Room A at the Verde Valley Medical Center to hear from presenter Leslee Vogal, who will discuss "Unique Approach to Health." Coffee, tea and water are provided. Call Barbara at (928) 649-0248 for more information.
Antique & Collectible Show
March 27-28
Vendors are being accepted for the Antique and Collectible show that was in Old Town Cottonwood for many years. The Verde Valley Fairgrounds is hosting the event Friday from 9 a.m. to 5 p.m, Saturday from 9 a.m. to 4 p.m. $3.00 door entry per person or $5/2 people, 80 and over free, 2 and under free (door fees go into the tractor fund to purchase a new tractor for the fair).
More like this story