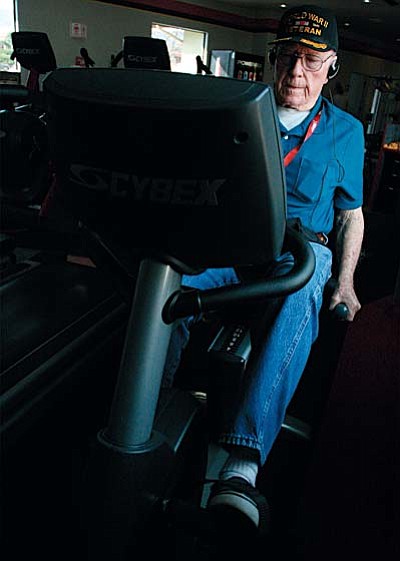 Originally Published: February 10, 2015 11:40 a.m.
CAMP VERDE - A fair share of 85-year-olds would struggle to remember the last time they had a good workout.
But the man they call Skid was 85 when he got his first gym membership. Nowadays, he can hardly remember the last time he went more than five day between workouts.
A committed gym rat at Camp Verde's Snap Fitness for close to five years now, 90-year-old Sterling Robert Hillebert says the workouts make him feel better.
"And you meet a lot of nice people doing it," he says.
Anna Wagner, fitness manager and personal trainer at Camp Verde Snap Fitness, says Hillebert's exercise regimen "is remarkable" for a man his age.
"He's got a stubborn will," Wagner says. "When I look at him, I see the young man inside. I think it's what keeps him going. He's just determined to be present, to keep up his quality of life."
A lover of the Big Band music of the 1940s, Hillebert pumps his legs - and the iron - to the music on his portable CD player.
"It helps me," Hillebert says. The music - and his commitment to the gym - are the bond between Hillebert and Wagner.
"I used to teach water aerobics in Colorado," Wagner says. "I would use Big Band music, because they were seniors. That's what he and I have in common. We love to sing to the old tunes"
Hillebert first visited the gym a few years back when a friend invited him to come along one day. Hillebert used to walk regularly. But his sciatica put an end to that. So the gym, he decided, was the best way to stay in shape.
Hillebert begins his thrice-weekly routines with 30 minutes of stationary bicycle work. Then he puts in another 30 minutes of upper body work, working on three, sometimes four different machines. At first, Hillebert completed 15 repetitions, then he completed 10 repetitions, before moving to the next machine.
Always moving forward is the man they call Skid. On occasion, he allows for a recollection. Like how he got his nickname.
"My parents had a friend. Name was Sterling Robert Spears. I got everything but the Spears," Hillebert says.
-- Follow Bill Helm on Twitter @BillHelm42 and Instagram @VerdeValleyNews
More like this story