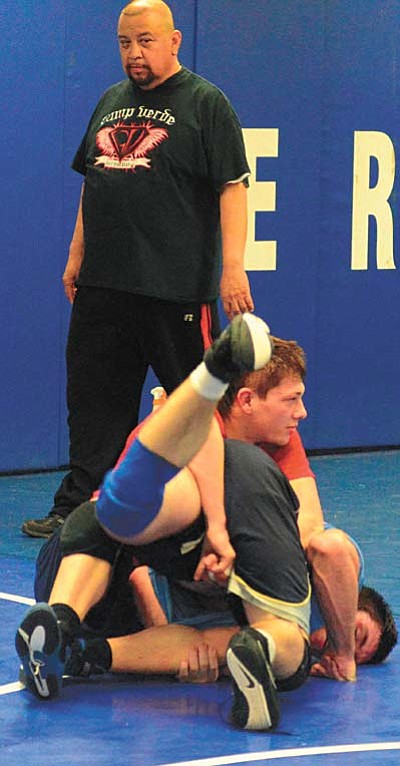 Originally Published: February 10, 2015 11:02 a.m.
Camp Verde wrestling has dominated all season. The Cowboys did just that again this past weekend in sectionals. The team took first place and 13 wrestlers will be going to the state tournament.
Of the wrestlers who qualified for state, six won championships at sectionals. They are, Hayden Uhler, 113 pounds; Alex Casillas, 120 pounds; his brother EZ Casillas at 126 pounds; Matt Mejia at 132 pounds. Also, three-time champion Ryan Allred at 152 pounds and Jeremy McEachern at 170 pounds took home sectional championships.
Head coach Tracy Tudor described how his team did this way.
"We did great," Tudor said. "Our studs did well. And our inexperienced wrestlers really came through like champions, after having some losses in the first or second round. In the third round, they were just incredible. They came back."
He added all wrestlers, not just the best, performed strong.
"Every average wrestler equally just did not want to let the team down," Tudor said. "And just picked it up into high gear. They just fought. They just came together. And they did it."
Last year, the Cowboys had five individual state champions. "As in years past, it's very possible to get seven," he said. "It's very realistic that we could get seven. My range, you never know. There is always some good competition out there. I'm proud of my boys. They need to show up. Right now, it look like a team that's on fire. We've peaked at the right time."
Allred will likely be a four-time state champion. That would be the first time in Camp Verde's history.
Alex Casillas could be a three-time state champion.
Uhler will be a two-time state champion if he wins it this year.
Tudor said it's possible both Casillas and Uhler could eventually join Allred as four-time champions.
"It doesn't happen very often for any program," Tudor said. "You just keep working through hard times. We could have three within a couple years of each other. I mean that's, pretty impressive. It's a credit to a really good coaching staff. We have a really good wrestling family. We have really good community support. It's just a stellar program."
The Cowboys have dominated Division IV. It's logical to think the Cowboys would do very well in Division III or maybe even Division II.
But, Tudor said he doesn't expect his team to move up.
"You need to ask yourself when thinking about doing such a thing," he said. "What is the benefit? What is the reason That we would be doing that? We're the same group of kids the other small schools in the state have. We have the free and reduced lunch programs. We don't have a lot of kids in the school, 390-400 kids. As far as winning at a division like division III or division II, we'd compete against schools with anywhere from 1,000 to 2,000 kids. We're taking skinny little farm boys and we're making champions out of them. There's a lot of work that goes into it. So, I don't see an advantage to it. It's about making good men in our community. That's what our goal is."
More like this story