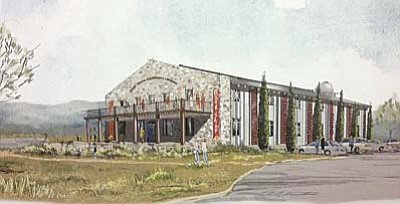 Originally Published: February 19, 2015 10:47 a.m.
CAMP VERDE - The construction team for the new Camp Verde Community Library received a preliminary project build schedule from Woodruff Construction (BWC) this week.
While preconstruction work is going on behind the scenes through the month of February, citizens will begin to see visible signs of construction starting in March.
BWC plans to begin fencing off the area and mobilizing equipment on site during the first week of March.
Earth work should begin a week to ten days later.
The construction phase is expected to run from March 2015 through April 2016. Access to Black Bridge Road by Moser Lane will be blocked during the construction phase. But access to Rezzonico Park off of Montezuma Castle Highway will not be blocked. Arizona Corporate Builders (ACB) won the bid for the pre-engineered steel building, which will comprise the shell of the library's 17,000 square foot structure. ACB is submitting design drawings for the steel building to BWC, to Architect Joel Westervelt and to the Town of Camp Verde for approval before fabrication of the steel building begins. Once approval of the shop drawings is given, it will take another ten to twelve weeks to deliver the steel building to the site.
The preliminary project schedule shows the building complete and ready for occupancy in April 2016 if the steel building is delivered by the end of May 2015. The current library building will be demolished and the parking lot on the south side of the new building finished after the old building is vacated.
Please note that a large part of the current library's parking lot will be blocked off during the construction phase. Library staff plan to park on the west side of the library to make more room for patron parking on the south side. Entrance to and exit from the library's parking lot will be from Black Bridge Road only.
Library staff ask for your patience and hope you will take extra care entering and exiting the area while construction is going on. If you experience any problems accessing the library during open hours while the new library is being constructed, please call Library Director, Kathy Hellman at (928) 554-8381.
More like this story