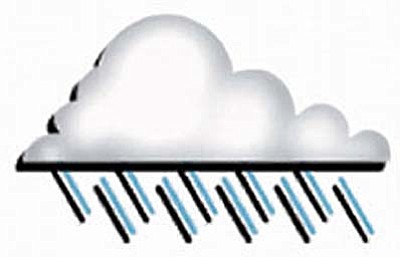 Originally Published: February 27, 2015 1:12 p.m.
NORTHERN ARIZONA -- More rain for the Verde Valley and snow in the mountains through this weekend... and even longer. A strong and moist Pacific winter storm will move through Northern Arizona from Friday and continuing through Tuesday or Wednesday next week.
The large and complex storm will bring significant rain and snow to Northern Arizona from Saturday into early next week, according to the National Weather Service. 6-24" inches of snow are forecast over the higher terrain of Northern Arizona through Monday. Heavy rain accumulations is also forecast along the south slopes of the Mogollon Rim and Bradshaw Mountains, where a threat for flooding will exist.
The track of this system will allow for good amount of Pacific moisture to be drawn into Arizona.
1 to 4 inches of rainfall is expected over the south slopes of the Mogollon Rim, Northern Gila and portions of Yavapai County.
Snowfall will remain about 6000 feet for the duration of the storm.
Stay tuned for further updates as the forecast of this event will change as certainty increases.
Cooler with daytime high temperatures dropping about 10 degrees.
The Weather Service says take care on the roads. Traffic in the highlands will become hazardous because of the icy roads and low visibility.
More like this story