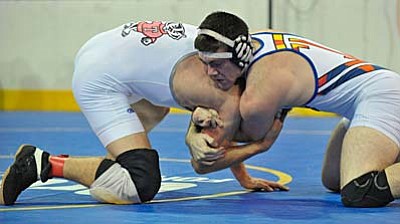 Originally Published: January 6, 2015 10:01 a.m.
Camp Verde High School wrestling was one of many schools at the Mile High Wrestling Challenge at the Prescott Valley Event Center. Both Ryan Allred and Jeremy McEachern came away with championships.
Overall, Camp Verde placed 13th out of 36 schools. Freshman 106-pound weight class Skyler Pike went 2-2. Sophomore Ezekiel Casillas in 120-pound class went 1-2. Matt Mejia went 5-1 in the 132-pound class and took third place. Kyle Little went 0-2 in his 138-pound weight class. David Perez went 1-2 in the 145-pound weight class. In the 152 pound class, Allred went 4-0, won the championship for his weight class, and was named the tournament outstanding wrestler award winner.
Jose Curiel went 0-2 in the 160-pound went class. McEachern was the champion of 170-pound class. Curtis Corder went 1-2 in the 182-pound weight class. And Bret Worth went 1-2 in the 220-pound weight class.
Head coach Tracy Tudor said overall his team did well despite being a little shorthanded.
"We usually have 14 kids, but we only took 10," Tudor said. "And that was by design. Some of our kids are pretty young. Some of our starters are pretty young. Two of our studs had some family issues and we took them out of the tournament. So overall we did pretty well."
One of the best who didn't wrestle in the tournament was junior Alex Casillas. Tudor said Casillas will be back this week.
It should come as no surprise that Allred had success at the tournament. He is without question one of the best wrestlers in the State of Arizona.
"He's just technical and physical," Tudor said. "He just has the will to win. He's very good."
Pike is another Camp Verde wrestler with high expectations. He's only a freshman. But, he was the two-time middle school champion for Camp Verde Middle School.
"This was a really tough tournament for him," Tudor said. "Verde duals was as well. In this tournament, he won two and he lost two. He went the distance. He didn't get pinned. So for a freshman, that's pretty good."
Despite going 1-2, Tudor said Ezekiel Casillas gave strong effort.
"Ezekiel (Casillas) wrestles at 100 miles an hour," he said. "You can never fault him for wrestling hard. He wrestled hard and he wrestled very well. He just got beat. Sometimes you go out and you put it all on the mat. And Ezekiel (Casillas) did. And the guy was just better than him that day."
Tudor added it was simple how McEachern was able to win a championship.
"Just smart wrestling," Tudor said. "And he applied everything he was learning the past four years. He's looking like a state champion caliber wrestler."
Tudor mentioned that third place Mejia also had a good day.
"Wrestled very well, just came out on the short end of the stick," Tudor said.
He added the Cowboys will wrestle next week against Parker High School and Mayer High School.
Tudor said that the tournament won't have much to do with the rest of the season.
"It doesn't really hurt us, it doesn't help us," he said. "It helps Jeremy McEachern to see where he's at against top competition. It shows us where our champions are. We stack up with the best of them. If we had taken a full team, we would have been in the top five."