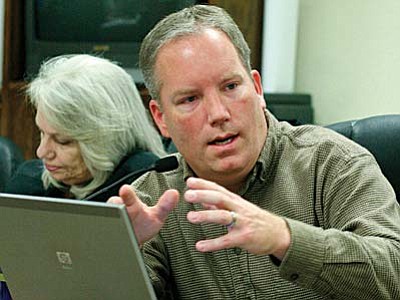 Originally Published: January 8, 2015 1:07 p.m.
CAMP VERDE - As if approving the minimum bid on a new $4 million library wasn't enough work for one evening, Camp Verde Town Council then approved an ordinance that increased the town's sales tax by .65 percent and the town's use tax by 1.65 percent.
Wednesday, council voted 4-3 to pass Ordinance 2015-A403, which is meant to generate revenue for the Town's Capital Improvements Projects, said Town Manager Russ Martin.
The sales tax - also known as the Transaction License Privilege tax - is the Town's response to the food tax that was passed, then defeated, in 2014. A use tax is assessed upon tangible personal property purchased by a resident of the assessing community for use, storage, or consumption in that community, regardless of where the purchase took place.
Said Camp Verde resident Steve Goetting, who fought the food tax, the sales tax is a "better tax."
"All I ask is that you know what you're spending it on," Goetting told council. "People need to see what it's going toward - the result."
Camp Verde resident B. J. Davis told council he saw the sales tax and use tax increase as "necessary."
"But I echo [Goetting]," Davis said. "We need to see a plan."
Despite the plan that comes with a list of capital improvements, Vice Mayor Jackie Baker told her fellow council members that she couldn't support the tax increase "in these drastic times."
-- Follow Bill Helm on Twitter @BillHelm42 and Instagram @VerdeValleyNews
Wednesday, the Camp Verde Town Council appointed Greg Blue, Dave Freeman and Chip Norton to the Town's Planning and Zoning Commission.
Council also appointed Doug Stevens and Greg Blue to the Board of Adjustments and Appeals.
Each term is for three years.
- Bill Helm