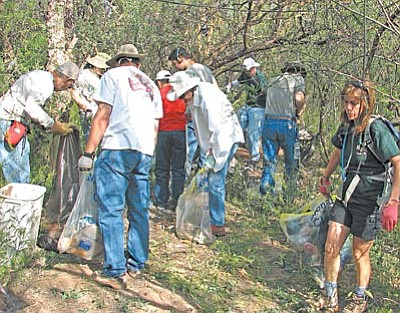 Originally Published: January 8, 2015 12:41 p.m.
For more than 30 years, volunteers have been dedicated to stewardship, education, and advocacy as means to inform the public and officials about the rarity and fragility of the Verde River.
Early efforts focused on the devastation caused by gravel mining and the ever-present struggle to keep the river from drying up.
With great enthusiasm, educational river trips were launched and study groups were formed. Much of the work done by these study groups became dusty reports, creating change at a glacial pace.
Trips guided by volunteers have continued over the years to expose people to one of the last perennial streams in the state.
This past year has been quite exciting for the river. An art show exposed the beauty of the Verde River throughout the state. Walking trails along the river were expanded and improved. Invasive plants threatening native species were removed from 1,108 acres of riparian habitat. Large-scale agricultural water conservation projects were initiated.
The 28th Verde River Day and the 14th Birding and Nature Festival were held at Dead Horse Ranch State Park. A large arch in Cottonwood now draws attention to the river. Boaters from across the state competed in the Verde River Runoff and raced canoes and kayaks in Camp Verde. The town of Clarkdale celebrated the opening of a previously closed stretch of river with a dedication and a Poker Run.
Suddenly, the number of people exposed to the river and its unique environment has grown to numbers only dreamed of in the past.
Increased traffic on the river in Clarkdale has caused some passionate locals to believe that the river is at risk due to increased use. Some concerns have been addressed, but as a new enterprise, decisions such as the appropriate boating capacity are yet to be finalized.
To address safety, river etiquette, and to reduce vandalism and garbage, ambassadors help ensure safety, preservation, stewardship and proper use of the recreation areas. Concerns about noise in one area prompted Clarkdale officials to establish a Quiet Zone.
The average age of those currently active in riparian conservation and advocacy is 60 years old. If our river activities are to become sustainable, a younger crowd must become engaged.
Adults may marvel at the serenity and beauty of the river, but teens are most likely to find a river experience memorable only after having a great boisterous adventure.
Turning fun-loving boaters into advocates and volunteers has proven difficult. At the end of each commercial trip, visitors filled with new respect and enthusiasm should be presented with river information along with advocacy and volunteer opportunities.
Hard work and dedication has meant that our river is still flowing. Future generations will enjoy the Verde River only if more of us turn our passion into action.
Marsha Foutz is a resident of Clarkdale.
More like this story