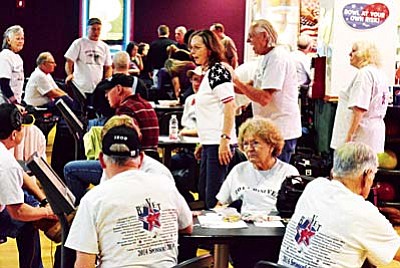 Originally Published: January 22, 2015 12:20 p.m.
CAMP VERDE - A deadline is not really a deadline in the world of fundraising.
Though it is too late to sign up to bowl in this weekend's BeneVet Bowling Funfest, event organizer Nikki Miller says that there may be a few open lanes come Saturday and Sunday.
The annual bowling fundraiser, now in its sixth year, will be held on Jan. 24 and Jan. 25 at Cliff Castle Casino's Shake, Rattle and Bowl. Anyone still interested in bowling is encouraged to drop by prior to bowling times, which are Saturday at 10:30 a.m., 2 p.m. and 5:30 p.m., and Sunday at noon and 3 p.m. For more information, call Miller at (928) 592-9137 or Mike Jacobson at (928) 567-9125 or visit www.benevet.azmine.com.
For those who don't know the difference between a strike and a strikeout, there are other ways to participate - and other ways to donate to the cause. The coinciding raffle, Miller says, actually brings in more money than the bowling.
"Please come and see if there is anything that suits your fancy," Miller says. "We have thousands of dollars' worth of raffle items.We have hotel stays, fantastic restaurants, handmade items, Suns tickets and much, much more ... it will be worth the trip to come see what we have."
For most raffle prizes, winners do not need to be present.
Money raised from BeneVet will be used to purchase equipment for rehabilitation facilities at the Northern Arizona VA Healthcare System in Prescott. Miller and Jacobson talk with the Prescott VA's therapist to "find out what they need but cannot get through the hospital," Miller says. "Then we research, buy and have the item delivered. This is usually complete within a month to six weeks after the event is over."
Proceeds from BeneVet also help other Northern Arizona veterans' organizations, such as The Vet Center and the American Legion.
"The BeneVet Bowling Funfest is a very fun way for all of us to say thank you to the veterans," Miller says. "They have sacrificed for our country and now many need our help."
-- Follow Bill Helm on Twitter @BillHelm42 and Instagram @VerdeValleyNews
More like this story