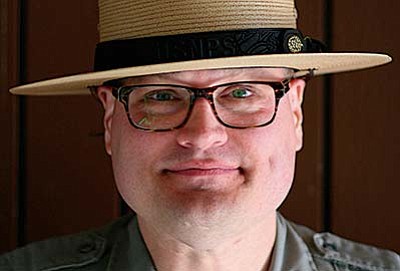 Originally Published: January 22, 2015 12:23 p.m.
VERDE VALLEY - For close to six months, Joseph Reynolds has been a park guide at Montezuma Castle, Montezuma Well and Tuzigoot national monuments.
According to Reynolds, a park guide is responsible for providing customer service, furthering the protection and preservation of the parks, and educating visitors on the cultural and natural resource history of these moments.
Reynolds has two Bachelors of Science Degrees from Indiana University, one in General Science and the other in Health Information Administration.
He is also credentialed as a Registered Health Information Administrator with the American Health Information Management Association.
"And I am planning to return to graduate school," he says.
Bugle: What brought you to the Verde Valley?
Reynolds: The National Park Service and the talented employees I work alongside.
Bugle: What is your favorite place in the Verde Valley?
Reynolds: Resting on top of Montezuma Well during the monsoon season, when the thunder roars and in the far distance countless flashes of lightning strike down to the ground in front of me. Columns of white storm clouds and dark purplish skies surrounds the Well completely in a panorama view, as the Well steams in the wake of monsoon thunderstorms in the middle of the night.
Bugle: What are some of your hobbies?
Reynolds: Reading, mountain biking, hiking, camping, backpacking, photography, archery, cards, running, techie, exploring our monuments and parks day and night, going for a workout, and playing my favorite video game, Sid Meier's Civilization.
Bugle: Do you have a family? Spouse? Kids?
Reynolds: Not yet! Perhaps it's feasible and rewarding, but I've heard it may be too much stress! Honestly, I don't have the income to support a family.
Bugle: When you have a long weekend, what do you and your family like to do?
Reynolds: Road trips to other national parks, wilderness areas, national forests and state parks to collect park souvenirs, and go camping and hiking. Also, I enjoy having lunch every other Tuesday at Garland's Camp Store in Oak Creek Canyon.
Bugle: Do you have any pets?
Reynolds: Yes, I have two awesome dogs: Athena and Tonia.
Bugle: What music is in your car right now?
Reynolds: NPR, Jason Mraz, OneRepublic, Dolly Parton and Enya.
Bugle: What book are you currently reading?
Reynolds: I am reading three books slowly at this time: A History of the Ancient Southwest, The Walking Whales: From Land to Water in Eight Million Years,and Ants at Work.
Bugle: What is your favorite movie or television show?
Reynolds: Star Trek TV series: Enterprise, Voyager, Deep Space Nine and the Next Generation; Forever, Doctor Who, Hannibal, V, Stargate, Game of Thrones, True Blood, The Big Bang Theory, Planet Earth, Firefly, Dexter and Sherlock.
Bugle: What would you have for your last meal?
Reynolds: A 10-ounce filet mignon wrapped with strips of bacon, asparagus, cream spinach, French bread with bottles of red wine and crÃ-me brûlée if there's room for it!
Bugle: If you could have a conversation with three people, either living or dead, who would they be?
Reynolds: Country singer Dolly Parton, Egyptian pharaoh Ramses the Great, and Roman emperor Constantine the Great.
Bugle: What was your favorite sports team when you were growing up?
Reynolds: Indianapolis Colts, but I played basketball, soccer, cross country and track and field in high school and college.
Bugle: What is your most embarrassing moment?
Reynolds: It's difficult to say, but it seems like every day I have some embarrassing and funny tongue-tied moments at work and home.
Bugle: Is there anything else people do not know about you that you would like to share?
Reynolds: I am enthusiastic at learning software/multimedia programs, playing video games, observing and studying social insects: ants and bees, and relaxing and enjoying the moments with family, friends and colleagues after hours to build friendships and connections.
I try not to dillydally, and I have a great drive to challenge my being, my abilities and defy the limits of my disabilities and endeavor to do as much as imaginable.
Everyone lives only once in this grand scheme, so why not push your limits and outshine in something that you have never attempted to do before?
If you're not successful, pave a new road with bricks of new ideas, determinations and aspirations to follow until you have no more bricks to march on. Then you'll know your essence has truly run out.
Also, I am an identical twin withtwo nieces andtwo nephews back home in Indianapolis.
My greatest passion is traveling through places from Prince Edward Island to Yellowstone, to Glacier, and everywhere in between that grants me a new opportunity to appreciate nature's majesty in my Ford!
-- Follow Bill Helm on Twitter @BillHelm42 and Instagram @VerdeValleyNews