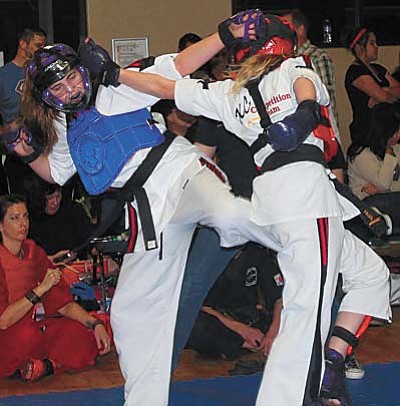 Originally Published: January 27, 2015 10:28 a.m.
GILBERT- Ariz (Saturday, Jan., 17, 2015) -- Twenty-two martial artists from KC's Family Tae Kwon Do returned from the AZ Elite Sport Karate Association State Championships on Saturday as the newest in a long line of champions that hail from the school.  "Every year since the school opened in 2006, I've had a banner made to hang in the studio listing all of our champions," said Master Karen Conover This year is the biggest banner I've ever had to make, with twenty-two names." Master Conover is the Head Instructor and Owner of the two schools located in Camp Verde and Cottonwood.
There are two different types of State Champions named at the final event of the competition year -- Points Champion and State Grand Champion.  Some KC's students earned both qualifications.  Nineteen students were named Point Champions in 28 Divisions. This means that they earned the most qualifying points throughout the season, more than any other competitor and were ranked No.1 over the course of a year of competition for each event. A student receives points every time they compete and place.  And more importantly, 17 KC's students won the title of State Grand Champion in 30 Divisions. This means that a student had enough points to qualify them to compete at states and they attended, and won, at the Championship Tournament.
KC's looks forward to another great season of competition in 2015 and is especially anticipating the arrival of many competitors from all across the region at the Sedona Red Rock Classic Sport Karate Tournament that will be hosted by the KC's Competition Team on July 18th.  Last year's event hosted over 200 competitors from 14 different schools and anticipates a larger turnout this year. Results:
BLACK BELTS:
Amy Romero-Points Champion and State Grand Champion Black Belt Musical Forms
Benji Perez-Points Champion Sparring and State Grand Champion Black Belt Traditional Forms
Christopher Conover-Points Champion Black Belt Extreme Forms
Harlie Bouwman-Points Champion Creative Forms and State Grand Champion Black Belt Musical Forms
Holly Newberry-State Grand Champion Traditional Forms
Junior Queen-Points Champion and State Grand Champion Black Belt Musical Forms
Kirsten Conover-State Grand Champion Creative Forms, Traditional Forms, and Sparring
Preston Chalmers-Points Champion Creative Forms
Ron Romero-Points Champion and State Grand Champion Black Belt Traditional Forms
Sidney Burns-Points Champion Weapons
ADVANCED BELTS:
David Holdsworth-Points Champion and State Grand Champion Advanced Sparring and Traditional Forms
Kevin Schutte-Points Champion Sparring and State Grand Champion Forms
Ricky Owsian-Points Champion Sparring, Weapons, Forms and State Grand Champion Sparring and Forms
Sebastian Lopez-State Grand Champion Traditional Forms and Gladiator Sparring
INTERMEDIATE BELTS:
Gage Roberts-Points Champion Gladiator Sparring and State Grand Champion Sparring and Gladiator Sparring
Olivia Gregg-Points Champion Sparring and State Grand Champion Sparring
Jacob Elliott-Points Champion Sparring, Open Forms and Traditional Forms
Kenya Harris-Points Champion Sparring
BEGINNER BELTS:
Alexandria Gilbert-Points Champion Sparring, Weapons, Forms and Gladiator Sparring and State Grand Champion  Sparring, Weapons, Traditional Forms and Gladiator Sparring
Hyatt Cannon-Points Champion and State Grand Champion Weapons, Open Forms, Gladiator
Julian Perez-Points Champion Open Forms and Gladiator Sparring and State Grand Champion Open Forms
Koltin Barnes-State Grand Champion Sparring and Gladiator Sparring