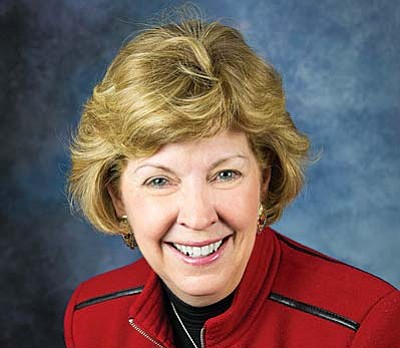 Originally Published: January 31, 2015 12:43 p.m.
The big news for community colleges and their students is President Obama's proposal for two years of free community college tuition for American workers. We're certainly intrigued by this proposal and look forward to learning more in the months ahead.
As U.S. News & World Report noted following the State of the Union address, "It's too early to tell exactly how the president's plan will turn out, and funding remains a big question mark."
Of more immediate interest are our four new certificate programs that promise to serve both the education and economic needs of Yavapai County residents. The YC District Governing Board has unanimously approved certificate programs in Culinary Arts Fundamentals, Hotel and Restaurant Management, Enology, and Integrated Systems Engineering Technician.
All are scheduled to start in the fall 2015 semester, and the first three will be administered from the college's Verde Valley Campus in Clarkdale. Many of the required courses will be available online for students throughout the district. Integrated Systems Engineering Technician, because of its technology and equipment requirements, will be based at the college's Career and Technical Education Center (CTEC) near the Prescott airport. In the works is a proposal for a Digital Media Institute that would be housed on the Verde Valley Campus. We plan to present the proposal to the Board in the next couple of months.
Meanwhile, overall YC enrollment in for-credit classes for the spring semester is down slightly, which we attribute to changing county demographics and an improving economy. On the positive side, 79 percent of our students report that Yavapai College was their first choice for college. A few other interesting facts:
The average age of YC for-credit students (i.e., not counting OLLI and Community Ed students) is 36; by comparison, the average student age at community colleges nationwide is 28, according to the Center for Community College Student Engagement at the University of Texas-Austin.
• 79 percent of YC students attend part-time; and
• 67 percent of full-time/first-time degree/certificate-seeking students receive some form of financial aid.
The college now has 28 degree or certificate programs that can be completed entirely online. And, yes, our online enrollment is growing. More information is available online at http://www.yc.edu/academics/degrees-and-certificates/.
The preliminary state budget that Gov. Ducey introduced could lower Yavapai College's State support to less than 1 percent of our total budget. In response to previous reductions in State support, Yavapai College has reduced its operating costs, which are below the national average community college cost per student. 
At the same time, we have protected the taxpayer-approved capital investment in our college with a rigorous preventive maintenance program that extends the life of our facilities and lowers taxpayers' total costs of ownership. Nonetheless, we may have to consider other ways of increasing revenue for FY 2016 in order to meet residents' education, economic and cultural needs while maintaining a balanced budget.
Earlier this month, Yavapai College received an unqualified financial audit opinion from the Arizona Attorney General's office for FY 2014. This is an important endorsement of our commitment to responsible fiscal stewardship.
Research conducted in Verde Valley communities by our Regional Economic Development Center (REDC) shows that occupations that have experienced the greatest increase in demand in recent years are production and machine installation and repair jobs (11 percent increase); jobs in the health care field (8 percent increase); and jobs related to tourism (17 percent increase). Employer demands in these three sectors speak to skills that Yavapai College is addressing through short-term certificates and local credentials that build upon one another.  This approach gives students the opportunity to begin working in their career field while increasing their educational attainment through accessible, short-term credentialing. 
The YC District Governing Board is preparing its first annual report for distribution within the next month. It covers the 2014 calendar year and provides a good overview of Board operations, goals and related achievements.
The University of Arizona has selected YC's Chino Valley Center as the venue for an agricultural trial to see if this is a good area for summer spinach growing. Chino Valley Farms is also participating in the project, which is part of the largest spinach-growing trial in Arizona. This provides a viable research project for the spring/summer terms for the Chino Valley research garden, and it fits well with all the learning outcomes of our agriculture program. 
We've prepared some new YC enrollment ads featuring our students and grads (i.e., your neighbors) sharing personal stories of how YC has helped them succeed and save money in the process. The new ads are now showing on Yavapai County cable TV systems and in the Harkins Theaters in Prescott Valley and Sedona and at The Picture Show theater in Prescott.
In March we're hosting a couple of academic/economic events worth noting. The Verde Valley SciTech Expo returns to the YC Verde Valley Campus on Friday, March 27. The event brings together businesses with students of all ages to promote science, technology, engineering, art and math education. Saturday, March 28, the YC CTEC center presents "Get into Energy Day" for people who are interested in training for well-paying careers in the energy industries.
Those are the headlines. Once again, if there's anything here that you want to know more about, call Karen Jones at 776-2307 to invite us to one of your meetings. We look forward to working with you throughout the coming academic year.
Dr. Penny Wills is the President of Yavapai College
More like this story