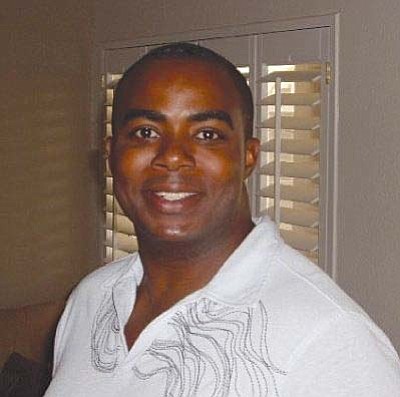 Originally Published: January 31, 2015 12:23 p.m.
BEAVER CREEK - The mystery surrounding the death of George Montgomery haunted family and sheriff's investigators for months. It eventually was ruled a suicide, but all the questions surrounding the death left many believing that foul play was involved and that a partner was suspected of the crime.
The report on the man's death was released this week after five months investigation.
Montgomery's life was on a trajectory in college. An ASU running back, George Wesley Montgomery was projected to have a future as a professional athlete. Like many athletes, injuries proved his downfall on the field.
His wife, Heather, was asked if he could take care of himself and she said "of course," according to investigative reports. She said Montgomery was a running back 20 years earlier at ASU and was a starter. He was recruited by the Philadelphia Eagles, but sustained an injury and was cut. He played European football for two years before another injury ended his career. Montgomery had a very athletic build and he appeared to be a person who could defend himself.
Montgomery was found July 31, 2014, face down and submerged in Wet Beaver Creek along the popular Bell Trail at the Beaver Creek Campground. Two hikers found the body after spotting a phone, backpack and mat lying on a rock. But it was when they saw the body face down in about three feet of water with a chrome handgun next to the dead man's knee that they called for the sheriff.
Detectives combed the scene. The gun, a Davis .380 with a five-round clip, had only a single bullet left in the chamber. It was registered to a San Diego man and had been reported stolen in 2011. But the area did not seem disturbed; there were no signs of a struggle, according to the report.
When they inspected the 43-year-old dead man, investigators found that there were four gunshot wounds. Two had penetrated the man's chest. A hand and one leg also had bullet wounds.
The family said that Montgomery had gone to their favorite camping area July 30 to scout a primitive camping trip for his son.
He called his wife, Heather, at 7:10 p.m. to say he was finished scouting the trail and was walking the 45 minutes back to the car and expected to be home by 8:30 or 9. Heather said when she last talked with him, he sounded relaxed and peaceful.
Montgomery did not return home that night or the following morning. By 1 p.m. the following afternoon, Heather reported him overdue.
When asked, she told investigators that Montgomery had stayed away all night at times when he was stressed out.
Montgomery's mother, Denese, told detectives that Montgomery had missed a court examination under oath that morning. Both Montgomery and his partner, a retired policeman, were being investigated by the Corporation Commission and Attorney General for a Ponzi scheme. Investors had lost almost $3 million investing in the mining scam. The alleged scheme, called Twin Peaks, was located at the Yavapai County ghost town Stanton, near Congress.
The women suspected that his business partner was involved in his death and had also been responsible for an auto accident near Wickenburg in March when Montgomery had ended up in the hospital with a head wound. His vehicle went off the road and tumbled 200 feet before striking a boulder. Montgomery couldn't remember details of the accident and believed he was assaulted at a convenience store.
Montgomery had become angry at the business partner, because he discovered he had set up a pyramid scheme using Montgomery's clients, according to investigative reports.
According to the investigative report, the business partner offered Montgomery a quit claim deed to property in Wickenburg so Montgomery could pay off his clients. But, Montgomery first wanted to see the property. The man promised to meet him there, but never showed. As Montgomery was returning to Peoria, he stopped at a convenience store and after that couldn't remember anything. He was found after a reported one-vehicle accident. A friend told investigators that Montgomery said he had been assaulted at the store and later forced off the road.
Investigators, however, could find no police report other than an incident call for the ambulance service, which put him on a medical helicopter for a Phoenix hospital.
Family members disputed that Montgomery would ever own a gun, but text messages indicate he had asked friends to show him how to shoot and that he made plans to take his son to a shooting range.
Investigators said Heather quit her job to be home for Montgomery, who was having a high amount of stress and was "all over the map." She said he would have good days and bad and was "terrified about going to prison."
The investigation found four wounds and that Montgomery had been shot three times, There was tearing consistent with a contact wound on the right hand. A gunshot wound to the chest was located corresponding to the hand wound. A second gunshot wound to the chest was also a contact wound; neither wound had an exit. There was also a gunshot wound just below the knee.
No evidence was found that Montgomery had purchased a gun. There was also no evidence of a suicide note.
But the computer investigation did find a Last Will and Testament. The 11-page document appointed Essie Denese Montgomery as the personal representative. The will was last accessed four days before the March 20, 2014, assault allegation.
During a check of his cell phone, police found that his mother had sent Montgomery a text that he should not meet with his business partner alone because of the financial situation, the hearing and the incident a few months earlier.
Yavapai County Medical Examiner Dr. Lawrence Czarnecki suggested that the brain of the dead man be sent to the Brain Injury Research Institute to be studied for Chronic Traumatic Encephalopathy (CTE), a degenerative disease that affects the brain of people with a history of concussions. CTE can only be found post mortem and has been linked to the deaths of former football players.
Heather said the couple was served with an eviction notice on the morning of July 30, 2014. Montgomery was present when the notice came and shortly afterward left for the Beaver Creek Campground.
Montgomery's wife responded to the questionnaire provided by the Brain Injury Research Institute. Heather said that Montgomery suffered from "drastic" mood and behavior swings that she thought were being caused by something internal and were not due to external influences. They would happen from one minute to the next. When asked if she thought Montgomery suffered from major depressive episodes or depression, she said "yes." Montgomery would sometime stay in his room and sleep 16-18 hours and would not want to get out of bed, she said.
This happened frequently. She said a few years after he left football, he would often go into a deep "funk" and would sometimes be missing all night. When they first met, he was happy, energetic and optimistic. After a few years she said it was a "roller coaster" of ups and downs. Montgomery suffered from both insomnia and hyperactivity, said Heather.
The Sheriff's Office lists the cause of death as "multiple gunshot wounds." Other significant conditions are "found partially submerged in water, chronic traumatic encephalopathy."
The manner of death is listed as suicide.
More like this story