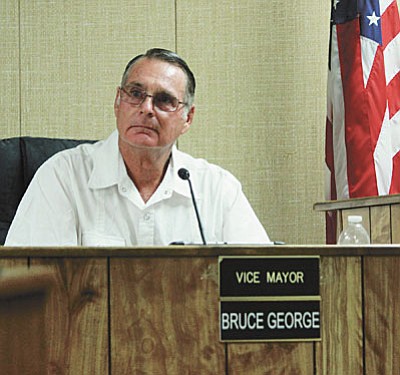 Originally Published: July 2, 2015 10:52 a.m.
CAMP VERDE - On June 24, the Camp Verde Town Council decided that council member Bruce George would become the Town's new vice mayor.
"I will do my best to provide good leadership and I will always put the interests of the Town first," George said. "I want our town to be looked up to by the other towns in our area and our residents and visitors alike. We have the tools necessary to make this happen."
George replaces Jackie Baker, who has served on the Town Council for more than a decade and has served as vice mayor for three years, the past two years current Mayor Charlie German.
"It was an honor and a privilege to act as the vice mayor, and I was glad to represent the residents and the Town of Camp Verde," Baker said. "I feel certain that Bruce will feel the same way and will do a great job at it as well." Town Manager Russ Martin said that according to town code, Town Council must choose a new vice mayor every two years. Though the target of a recall effort by Camp Verde resident Cheri Wischmeyer, George says he is excited to help represent the Town of Camp Verde. George has been a Camp Verde resident since 1998 and was elected to council in 2011. Camp Verde's new vice mayor served as a communication technician for 34 years, and worked as a trash tracker captain at the Glen Canyon National Recreation Area from 2003-2011.
George has also volunteered with Fort Verde State Historic Park, Habitat for Humanity and the Nature Conservancy.
-- Follow Greg Macafee on Twitter @greg_macafee