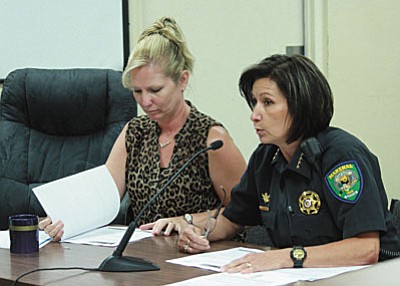 Originally Published: July 9, 2015 2:48 p.m.
CAMP VERDE - The Camp Verde Town Council met for a special work session Wednesday to discuss three agenda items concerning the Camp Verde Marshal's Office, a lease purchase agreement and suggestions for appointment to the Yavapai College Advisory Board.
Town Manager Russ Martin explained to council that the numbers given to them regarding the lease purchase agreements were estimates and were not final numbers.
The lease purchase agreement includes seven items, a mower/tractor, a small motor grader, a seal coat machine, a man lift, a 15-passenger vehicle, an administration vehicle, and two patrol cars for the Camp Verde Marshal's Office.
The total cost for this lease purchase agreement is estimated at $519,000 with an estimated annual payment of $115,000. According to Martin, three or four of the seven items would be used for streets and maintenance work that the Highway Users Revenue Fund would contribute to the annual cost of the lease purchase agreement.
Camp Verde Town Marshall Nancy Gardner and Dispatch Supervisor Mary Newton gave a presentation regarding the purchase of a Spillman Computer Aided Design System as a standalone system that would allow the Marshal's Office to migrate from the current Intergovernmental Agreement with Cottonwood Police Department.
The system that is currently in use with the Cottonwood Police Department provides record management, fleet management, property and evidence, creates any type of report the Town or the Marshal's Office would request and holds years of data. At this time, CVMO pays about $18,000 per year for this service from Cottonwood. Gardner also told council that the Cottonwood Police Department has a say in a lot of things with how the server is used.
"They agreed to maintain the server, which pretty much means that they have a say in how we pull information, how we create calls per service," Gardner said. "For example, two years ago we asked for report numbers to be pulled only on certain calls per service and they pulled reports on all calls per service,"
Gardner went onto explain as well that for the past six months the server has been going down daily.
What this means for the Marshal's Office is that when the server goes down, the Camp Verde information technology employees have to communicate with Cottonwood's information technology employees to try to resolve the issue.
On the weekends or during after-hours, the Marshal's Office may not be able to reach the IT department for assistance. This means the dispatchers need to hand write the information and input it manually at a later time.
"If we have our own system, our IT people could go straight into the system, fix the problem and it is a done deal," Gardner said. "So there are a couple little things that would save us time. Not to mention when I pull reports, Mary can design the report how I want it to look so we are able to properly inform the public of certain things. With our own system, we will actually own it and pay less money for it in the long run."
Gardner explained that they did look at other options and said this system will be a benefit to the town, to the employees and to the Marshal's Office as far as cost effectiveness.
After council discussed and asked questions about the system, Gardner said it would probably be an item for discussion on the agenda next week.
Council approved of moving passing along the names Assistant Superintendent of Cottonwood-Oak Creek School District, Steve King and Jewel Koel of American Family Insurance to be considered for appointment to the Yavapai College Advisory Board. Both King, and Koel will have to interview with Tim Carter who was named by the Yavapai College Advisory Board to conduct interviews for appointment to the board.
-- Follow Greg Macafee on Twitter @greg_macafee and Instagram @VerdeValleyNews