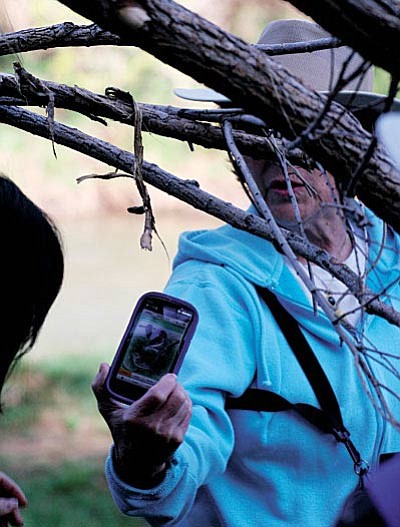 Originally Published: July 11, 2015 12:32 p.m.
Hardly a day goes by that Chip Norton doesn't find himself looking for birds.
An avid birdwatcher, the Camp Verde resident takes in the semi-arid region's riparian and wetland areas most mornings with a walk along the Verde River - in search of one of the hundreds of species previously seen in the Verde Valley.
Each day is a new adventure, a new opportunity to enjoy the state he was both born and raised in.
For Norton, a love of the outdoors began as a small child.
"I was fortunate to have a father who liked being outdoors a lot," Norton said. "And he liked taking his kids outdoors."
Norton counts the Belted Kingfisher, Black Hawk, Vermillion Flycatcher and the Verdin among his favored feathered friends. At last count, the number of birds Norton has seen is only rivaled by those he still wants to see.
As part of the Town of Camp Verde's 24th annual Cornfest, Norton and fellow birding aficionado Loretta Mogan will lead a birding excursion on Saturday, July 18 beginning at 8 a.m.
The nearly two-hour excursion will start across from the Camp Verde Community Library at Rezzonico Family Park, and will take birders along the Verde River near Black Bridge.
Norton and Mogan are not new to leading these excursions in the Verde Valley, as they also led a birding excursion at last year's Cornfest.
According to Mogan, last year's group observed 24 birds "most by sight, but a few only heard."
Some of the birds they saw or heard last year include the Common Black-Hawk, Gila Woodpecker, Phainopepla, Abert's Towhee, Yellow-billed Cuckoo, Bewick's Wren, Yellow-breasted Chat and Belted Kingfisher.
"We are hoping to observe more this year," she said.
More recently, about a dozen bird enthusiasts enjoyed a similar outing during the Spring Heritage Pecan and Wine Festival in March, with Norton as their guide and Mogan on hand to provide additional information.
After spotting a Lesser Goldfinch that day, Mogan then used her phone's Internet capabilities to tell participants a few things they may not have already known.
"This is an amazing place to live," said Cottonwood resident Linda Dixon. "I'd been looking for a place like this to come to. This is my kind of serenity."
Leann Norton, sister-in-law of Chip Norton, says the birds' migration is "fascinating."
"They survive and they have ways of doing it that are so unique," Leann Norton said.
Enjoying Arizona's riparian areas "is always so noteworthy," Sedona resident Ken Bork said following the birding trek in March. Chip Norton "had a lot of knowledge and communicated it so freely."
Five years ago, Chip Norton began what he calls his encore career as a birder. Now, he looks either at birds or he looks for birds every day.
"I get up in the morning, get my field glasses and walk along the river," Norton said. "I'm not looking just for birds. I also run into deer and other wildlife. And probably once a week, I go out at night, just to see and hear what's out there. The more you learn about it, the more impressive it is."
Mogan suggested that anyone interested in joining the July 18 birding excursion should bring water, binoculars, bug repellant and a field guide, and that they wear hiking shoes.
Though it takes preparation - and awareness to fully enjoy the experience, Mogan said that birding is ultimately "a form of wildlife observation."
"The activity of birds seems to be a big part of this observation because they are interesting, beautiful, inspiring, and fascinating," she said. "One can learn a bird's habitat, song, migration and range, body patterns, flight patterns, nesting patterns, how they raise their young and on and on. People of all ages can bird."
Cornfest is put on each year by Camp Verde Promotions.
For more information, call (928) 301-0922, email questions@campverdepromotions.org or visit www.campverdepromotions.org.
-- Follow Bill Helm on Twitter @BillHelm42 and Instagram @VerdeValleyNews