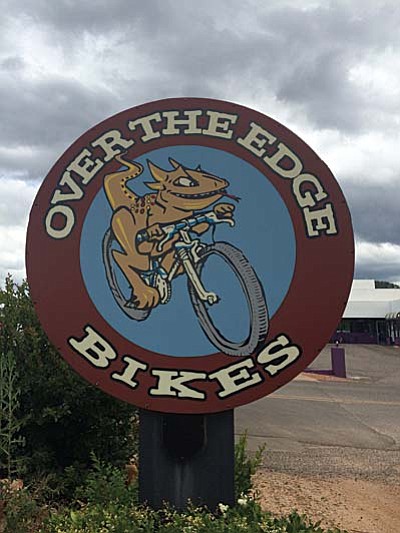 Originally Published: June 6, 2015 9:14 a.m.
SEDONA -- Sedona is a great place for people who love the outdoors. Hiking is a very popular activity for Sedona. Another one is mountain biking.
For those interested in mountain biking in Sedona, they might want to check out Over the Edge Bike Store at 1695 State Route 89A. The store has been open for about four years.
Michael Raney is the co-owner of the store. Raney said his store is geared toward the avid biker.
"We are an enthusiast bike shop I would say," Raney said.
Raney said his store is trying to bring in many customers from outside Sedona.
"We are trying to bring people from all over the country, all over the world to come over and ride here. We have to make the outside experience good and also make the equipment good. We carry a lot of rental bikes and a lot of fancy rental bikes. We try to have something for everybody. We want it to be a complete one stop, come ride your bike and have fun in Sedona. It's a world class destination and we try to mention that."
Raney said he thinks a lot of the same people who bike also enjoy hiking and he doesn't think there's too much of a competition.
"Business wise probably not," he said. "I think a lot of people want to do both. We have a lot of wilderness trails here, bikes aren't allowed on it. It's some of the coolest trails around. If you want to see it, you need to hike it. Hardcore riders will still want to go hike to see some of it."
Raney said there's no shortage of trails the bikers have, even with all the ones for hiking.
"Use of trails, I know there's always kind of this elephant in the room that there is conflict," he said. "But of the number of places with riding, it's really good here. I know a lot of cyclists do a lot of work on the trails. I think it's a pretty courtesy environment here. There's also so much trail you can spread on both use."
Raney said he thinks there is an estimated 300 miles of trails for biking in Sedona. Over the Edge works with a company called Hermosa tours to offer guided bike tours.
"They over top notch tours," Raney said. "They have fantastic guides. They can transport up to 15 people. We set up the bikes and they take you out. It's pretty awesome."
For an individual, it costs $150 for a half a day and $265 for a full day. For a group, it's $90.00 for half a day and $165.00 for a full day. And a group of six or more is $75 for a half day and $95.00 for a full day.
Hermosa is new to Sedona.
"They've been in town for about a year," Raney said. "We're just a good fit for each other. We really try to bring in the clientele they're looking for. I think it's a good added thing for what we do."
Raney said he hopes his store provides a great experience for his customers.
"I hope they're happy after they leave here," he said. "Riding is kind of a complicated thing. You have to know where to go. You have to know what to expect and how long it's going to be. You have to know what kind of tires are going to work well. You need all this information. It's our goal to provide that information. So that someone who is in town for maybe just one ride can have a great ride."
Raney himself is an avid biker.
"I've been biking for quite some time," he said. "I started racing competitively when I was 14."
Raney is originally from Pittsburg. He went to Northern Arizona University. He then moved to Sante Fe New Mexico and worked for Bicycle Technologies International. Then he moved to Sedona about four years ago.
Raney said Sedona is the best place for biking of where he has lived.
"I think it's up there for one of the best places in the world," he said. "The quality of trails, the amount of trails, the views you get while you're out there, everything is amazing. Trail access is incredible. It's certainly some of the best."
Over The Edge seems to be a great place for those looking to bike in the Sedona area.
More like this story