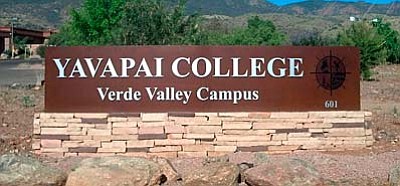 Originally Published: June 20, 2015 12:39 p.m.
The residents of the Verde Valley want affordable, relevant, and quality post-secondary education available to them through Yavapai College, according to our report from the Yavapai College District Governing Board's Verde Valley Advisory Committee delivered to the College's District Governing Board at their June 9 meeting in Prescott.
Education needs to be accessible. Accessibility for many Verde Valley residents is hindered if required to travel around or over a mountain range. It may be further out of reach if it means being required to live away from their families and employment. For many, accessibility may mean traveling to a nearby learning center located in their community or on their home-based computer.
There are some similarities and some very definite differences in the way the College must approach the delivery of post-secondary education in the eastern and western portions of the County. The Verde Valley in the eastern portion of the County retains its rural identity and demographic make-up while the western portion centered in Prescott and Prescott Valley is moving toward an urban identity and demographic. Unless expensive public supported transportation systems are available, rural models of education are more de-centralized; meaning bringing education closer to the dispersed population centers. Urban models are more centralized; meaning students must travel to the centers of education. While both models in Yavapai County will contain some of each of those elements; the major emphasis of each is different.
Different criteria must be used to evaluate success in the two models. Rural models are more expensive and less efficient.
Career and technical education programs need to become more centralized in the Verde Valley in order to maximize the revenues of State of Arizona-defined funding formulas. That is out of our hands so we must comply. Let's get busy making that transition.
Sustaining post-secondary education programs in the Verde Valley presents some real challenges. You have to have students and you need them semester after semester. That means recruitment and marketing both locally and outside of the region. That means first-rate programs that make sense to local students and attract students from other areas. That means programs that reflect the workforce demands of existing and potential industries in our region. That might mean making certain that affordable housing is available. If affordable housing for students does not exist through the local housing market, then it becomes in the interest of the College to explore providing it through dormitories or contracts with private providers. If you do not have students, you can not sustain programs.
Sustainability also means that the Verde Valley gets behind charitable foundation activities that support local College programs and scholarships for local students. If the current Foundation model is not working for us; then let's employ one that will.
We need an advocate! Sustaining post-secondary education in the Verde Valley will require a College administrative structure that capitalizes on the strengths of our unique communities and our strong sense of regional identity. That person or those persons must have a strong Verde Valley regional identity either home grown or adopted. They must be able to advocate effectively with the College administration and/or the District Governing Board. They will make better decisions locally because they will know their communities. We have real challenges and there are lots of them. Our advocates will work passionately on behalf of their region to solve them. We need them solved; not used as a justification for removing or eliminating our educational opportunities.
Let's make certain that every motivated student in the Verde Valley has the opportunity to get their first two years of core subjects completed while still benefitting from the support system of family and community. Let's ensure them choices like transferring to a four-year college to complete their degrees or extending those first two years to a third or fourth year with one of the State's universities in what are called 2+1 and 2+2 programs without having to leave their homes, families, or employment. Let's make sure we have a variety of certification programs that reflect the skills and technical needs of local employers.
Distance learning or e-Learning appears to be the future of education. Almost every major educational institution in this country is embracing it. Let's embrace it too for Yavapai County. It is a growing component of access to post-secondary education especially for rural models such as ours. To make it work, we will need state-of-the-art broadband capacity. There is a group in the Verde Valley already working on that. Let's get behind that effort.
An embracing of distance learning doesn't eliminate the need for bricks and mortar. We need a hybrid model of centralized campuses and remote learning centers. Some courses of study require hands-on experiences such as labs and the art studios. There is an experience of "going to college" that is more than just the delivery of information.
The Verde Valley Advisory Committee to the Yavapai College District Governing Board has spent the past eight months interviewing the education experts in our region and Yavapai College. We encourage you to join us in advocating for "affordable, relevant, and quality post-secondary education available in the Verde Valley." That requires access, sustainability, and the structure to do so.
Our report is available for you to read at http://verdeads.com/verde_pdf_doc/VVBAC_Recommendations.pdf
We would love to hear from you too.
Clarkdale's Bill Regner is the vice chair of the Verde Valley Advisory Committee of the Yavapai College District Governing Board.
More like this story