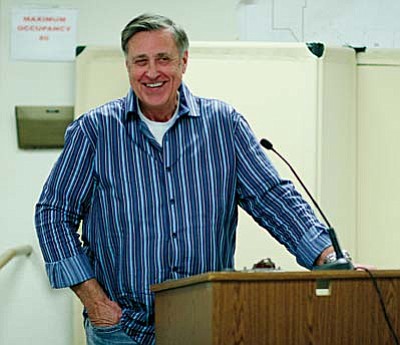 Originally Published: June 25, 2015 2:59 p.m.
CAMP VERDE - The Camp Verde Town Council unanimously approved the agreement that has been in the works for close to eight months between the Town of Camp Verde, the Verde Valley Archeology Center and developer Scott Simonton.
The conversation began between Simonton and VVAC Executive Director Ken Zoll when eight pithouses were found on Simonton's land at the end of Homestead Parkway.
The agreement stipulations are as follows. Developer Scott Simonton will donate nine acres to the Verde Valley Archaeology Center, free and clear of title, so the organization can build a permanent facility. Simonton will also sell an additional six acres to the VVAC - valued at $570,000 - for $250,000.
Simonton will conclude his part of the agreement by giving the title, to a 2.68-acre strip of property, to the Town of Camp Verde so they can extend Homestead Parkway from Davison Drive to 80 acres of public land.
The Verde Valley Archaeology Center will agree to remain in Camp Verde for the next 50 years making it the center's permanent home. VVAC will also pay the Town of Camp Verde for the construction of a waterline along the extension of Homestead Parkway that will serve all the properties along the corridor by the end of fiscal year 2018.
The Town of Camp Verde also agrees to pave, curb, and gutter the Homestead Parkway extension from Davison Drive to the Verde Ditch, including construction of a trailhead at the ditch end of the road by the end of fiscal year 2018.
After Economic Development Director Steve Ayers answered questions clarifying parts of the agreement, council voted on the agreement.
Construction of the new Verde Valley Archaeology Center is tentatively set to begin in 2018 after the VVAC completes architectural renderings and an archaeological survey.
In 2016, VVAC will begin archaeological excavations for building site as well as complete an archaeological park design.
The center will also begin their campus capital campaign.
In 2017, the center will complete their archaeological excavations and their land use plan as well as begin their archaeological park development.
-- Follow Greg Macafee on Twitter @greg_macafee and Instagram @VerdeValleyNews