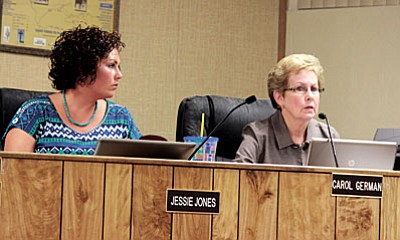 Originally Published: June 27, 2015 1:21 p.m.
CAMP VERDE - In regular session Wednesday, the Camp Verde Town Council voted 5-2 to approve the proposed fiscal year 2015-2016 annual budget.
Mayor Charlie German along with council members Brad Gordon, Bruce George, Robin Whatley and Jessie Jones all approved the budget, while Vice Mayor Jackie Baker and council member Carol German voted against.
Prior to the vote, Town Manager Russ Martin advised council members that they would be approving the big numbers of the budget and they would have other opportunities to adjust the budget as the year goes on, so long as they do not go over the numbers that they approved during the meeting.
Council approved the final numbers of Total Revenue at $11,387,507 while Total Expenses would top out at $18,337,935.
Finance Director Mike Showers says the appearance of a sizeable budget deficit stems from the Town receiving funding this past year that will be spent in the upcoming fiscal year.
"The most notable is the Library/GADA note payoff funding. We received over $4.7M in this fiscal year and most of that will be spent in FY16. Now our HURF fund is actually budgeting to use $271,000 from their $1.4 million reserves, but most are grants and such." Showers said. Before the vote, council member Carol German gave her reasons why she would not approve the budget. One of those reasons was the Town adding another part-time employee for the Economic Development Department, which would create a whole new department.
"The town has grown to 92 employees in the past couple of years, with the budget we will be adding another part-time employee for the Economic Development department creating a whole new department and promoting a current administrative assistant to be the director of that department. It is my opinion that the town is an equal opportunity employer and should have advertised this position to give other employees and the public an opportunity to apply" German said.
German also said it was in her opinion that the savings from this and other line items could be enough, that the town could afford a Human Resources Director, who could also perform the risk management duties, which is something that she has pushed for in the past. Along with this German voiced her disagreement with the town spending $20,000 for an extra attorney when other towns and cities in Yavapai County use the County attorney's office that has an available attorney 24/7.
German's third reason was not that she was against a raise for town employees but that she was informed from the Town Manager that the Town could not afford it this year.
"I am not opposed to a raise for our town employees," German said. "However in our basic budget work sessions the Manager said we could not afford it this year. We gave a 3-percent increase two years ago and another 1.67-percent increase last year with more salary adjustment for certain employees. Also last year the public safety employees got a 4.5-percent raise because we were told their retirement contributions were going up by .6-percent. We raised the sales tax this year by .65-percent to try and increase our revenues and I don't think we should be creating additional expenditures."
Mayor Charlie German agreed with and respected council member German's reasoning for voting nay against the budget, but he voiced his opinion in voting for the budget stating that there are items in the budget that some members don't like.
"There are seven of us up here and I am sure that there are items that we don't like and would prefer them to not be in here and I would just say that if we all took the same position as Councilor German of not voting for the budget, the Town would be without a budget." Mayor German said. "Council member German is certainly entitled to her opinion she has the right to vote against it but in my opinion I am going to vote for the budget because it is the best thing to do for the town as we move forward."
Vice Mayor Jackie Baker also supported her decision in voting nay against the budget as she believes there could have been changes that would have more effectively and efficiently benefitted the Town and the citizens of Camp Verde.
"There are a number of things in this budget not just one or two," Vice Mayor Baker said. "Some have been mentioned already but there are a number of things that I believe would need to be changed to better serve the community without having a tax."
Council Member Jessie Jones was the last to share her opinion on voting for the budget. Jones said she agreed with the whole budget other than not getting to go out and spend more.
"I want to improve this Town and if that means tax dollars coming in to go back out to our citizens. I think our employees deserve every bit of raise we give them they work hard day in and day out," Jones said. "I agree with everything in this budget other than we don't get to spend more money."
Council approved of the proposed fiscal year 2015-2016 tentative budget, and will hold a public hearing to hear the public's opinions on the budget on July 15 at 6 p.m. with a regular session scheduled at 6:30 p.m. Mayor German encouraged community members to write letters of their opinions and deliver them to the Town Clerk's office prior to the July 15 meeting so council has an opportunity to hear them before the meeting.
-- Follow Greg Macafee on Twitter @greg_macafee and Instagram @VerdeValleyNews