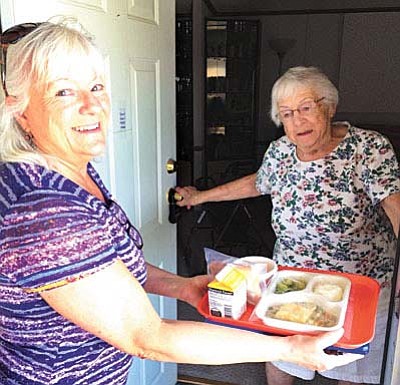 Originally Published: June 27, 2015 1:24 p.m.
VERDE VALLEY - Rising costs of food, packaging and transportation coupled with dwindling funding and a lack of volunteers are cooking up lean times for the local Meals-on-Wheels program.
"Currently, we have 28 volunteers delivering meals to home-bound senior citizens. We need 58," said Elaine Bremner, executive director of the Verde Valley Senior Center in Cottonwood.
"And over the past few years, our funding has been cut sharply," she said. "It's not sustainable. We can only dip into the reserves for another two years."
Bremner relies on a mix of State and Federal funding coupled with donations to keep the program going.
According to Bremner, volunteer Meals-on-Wheels drivers deliver more than 142 lunches a day (52,000 a year) to homebound senior citizens.
The 13-route delivery region spans from Clarkdale on the west, Camp Verde to the southeast, then northeast to Rimrock, Lake Montezuma and Beaver Creek.
Her volunteers reflect a diverse staff. Some are retired, while others are students or still employed and help on their days-off.
"One of my volunteer drivers was in his nineties," said Bremner. "We currently have two children ages 9 and 10 who help their parent deliver meals."
Bremner compiles testimonials received by Meals-on-Wheels recipients living in Camp Verde.
Most report that Social Security is their only source of income. According to one recipient, less than $100 remains from her check to buy food for the month after paying rent, utilities and transportation costs.
Others participate due to their declining health.
One recipient reports she regularly burns her food. Another notes that she receives chemotherapy and lacks the strength to prepare her own meals. A common testimonial from Camp Verde enrollees is that they receive no visitors other than the volunteer driver. For that reason alone, they say they are grateful for the Meals-on-Wheels program.
More like this story