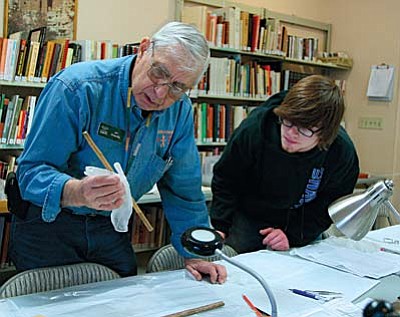 Originally Published: March 12, 2015 11:41 a.m.
CAMP VERDE - With the acquisition of the Paul Dyck Collection earlier this year, members of the Verde Valley Archaeology Center are now working diligently toward its eventual display.
Thursdays and Fridays during business hours, VVAC members are busy cataloging and documenting the collection's more than 20,000 artifacts, including well-preserved textiles, tools, game pieces, botanicals and pieces of food. To them, it's one of the many things that VVAC has to celebrate during Arizona Archaeology and Heritage Awareness Month.
The artifacts are believed to be one of the largest intact Sinagua collections assembled from a single location. VVAC member Jim Worthington says he feels privileged to be part of the curation process.
"I thought I died and went to heaven," Worthington says about being asked to help prepare the artifacts for exhibit. "When available for public viewing, I hope everyone comes to see this collection."
Cornville resident Jake Nicosia is a Verde Valley resident because of archaeology. Nicosia, originally from New Jersey, joined VVAC because members are allowed to help prepare the collection for exhibit.
"I was super-excited to hear about it," says Nicosia, who first found out about the collection while surfing the web for archaeological sites. "I was thinking mostly about what would come out of this. There is so much knowledge we'll get from this."
Nicosia says he is "overwhelmed" by the collection - and the opportunity to take part in it.
"I thought I'd have to go to school to learn about all of this," says Nicosia, 19. "By becoming a member, I could help curate the collection."
According to VVAC Executive Director Ken Zoll, the donation of this "significant collection is a major gain for the Verde Valley" because it is a "near-complete picture of life" in the Verde Valley almost 1,000 years ago.
"It is a milestone achievement for the VVAC and validates the hard work and dedication of those who established the center for this very reason, to keep the history of the Verde Valley within the Verde Valley," Zoll says.
VVAC Director of Archaeology Todd Bostwick says the collection is "extremely important" for several reasons.
"It has incredible research value, since it was professionally excavated, came from one single site that was relatively undisturbed, and is in a remarkable state of preservation," Bostwick says. "There are very few Sinagua sites in the Verde Valley that were not pot hunted haphazardly before professional archaeologists were able to excavate or otherwise record them, and so we have a limited set of materials from their sites that we can use to understand their craft skills, their agricultural knowledge, and their ceremonial activities."
Until funding can be secured for a special display of the collection, VVAC will use of two of its existing display cases. According to Zoll, VVAC has planned for the exhibit to include a 15' cave interior to display selected items "in a way that replicates the way the items may have been used almost 1,000 years ago."
The exhibit's special display would include a multi-media area to explain the items and their context.
While the details of the exhibit are still in the planning stage, VVAC Board President Jim Graceffa says that VVAC has received requests from students who are interested in doing their Master's thesis on Dyck Collection materials.
"The research value is so enormous that it's unbelievable," Graceffa says. "There's so much interest. This should offer researchers valuable information for many years."
Dyck Collection research "will fill in many gaps in our knowledge of the Sinagua people," says Bostwick. To VVAC member and assistant curator Jeanne Smith, the artifacts are "a wonderful collection."
"Everything is so amazing," Smith says. "The colors are wonderful. The more you see, the more amazed you become."
Prior to being unearthed during a 10-year excavation, the collection of artifacts dating as far back as the 12th Century was housed in a rockshelter on Dyck's Rimrock property in a small Sinagua dwelling. Says VVAC member Carole Dvorak, "finding something that hasn't been looked at since [AD] 1100 is just amazing."
Also known for his western art, Dyck had his studio at the ranch. Says Bostwick, the Dyck family's donation allows "local citizens [to] appreciate the amazing heritage of their own region and learn about the ancient Native Americans of the Verde Valley."
"In addition, the donation may encourage other local families to donate archaeological materials obtained on their property to the Verde Valley Archaeology Center, rather than being stored in their garages or displayed in their houses for only their family and friends to see," Bostwick says. "Once donated to the Verde Valley Archaeology Center, the artifacts will be protected and preserved in perpetuity according to professional museum standards, and will be displayed for the general public to appreciate."
Verde Valley Archaeology Center is located at 385 S. Main St. in Camp Verde. Members are encouraged to help curate and catalog the items in the Dyck Collection. For more information, call (928) 567-0066. Hours are noon to 4 p.m. Sundays, 10 a.m. to 4 p.m. Mondays, and 10 a.m. to 4 p.m. Wednesdays through Saturdays.
-- Follow Bill Helm on Twitter @BillHelm42 and Instagram @VerdeValleyNews