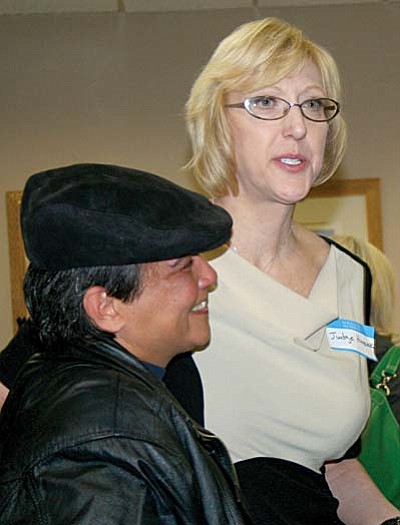 Originally Published: March 15, 2015 7:08 a.m.
"We can't punish mental illness or addiction out of people. It ain't gonna happen." John Morris, YC Chief Adult Probation Officer
"I had a kid - well, a 23-year-old - tell me it was the first time in his life anybody told him they were proud of him. I had parents who told me that every day." YC Judge Celé Hancock
A Yavapai County judge and "one of those people in recovery" spoke about the county's Mental Health Court during a meeting of the League of Women Voters of Central Yavapai at Las Fuentes Village Resort on March 7.
"I'm one of 'those people in recovery,'" announced John Morris, Yavapai County's chief adult probation officer, at the beginning of the presentation. "I have a passion for this work; I'm a survivor."
Yavapai County Superior Court Judge Celé Hancock talked about the issues people with serious mental illness face when involved in the justice system, and what kind of treatment they receive through her court.
The county's Mental Health Court falls under Hancock's supervision, along with Family Treatment Court (in which children have been taken away), Drug and DUI Court, Title 36 Court (court-ordered mental health treatment hearings), and Veterans Court.
Determining which court will manage probationers with co-occurring disorders - where drug and alcohol abuse combine with criminal behaviors - is important in deciding treatment and supervision needs.
"It takes time to decipher which came first," Hancock said, adding that she has transferred cases from Drug Court to Mental Health Court based on assessment results and diagnosis.
In March 2014, Hancock began conducting review hearings every other Tuesday morning when about 100 people - including those in the Verde Valley by video - check in with her. She is one member of a support team that helps probationers with mental illness achieve stability and lead crime-free lives.
In Yavapai County, when a person enters the justice system needing in-patient treatment for a mental illness, the quickest that occurs is two weeks - if the person is pregnant or has children. A single, white male waits about 30 days.
"There's nowhere to put them but jail," Hancock said. "People from the East Coast at a conference I just attended could not believe we in rural communities have no place to put these people but jail."
The wheels of the justice system turn slowly, and Morris said he would like to see clients have a court hearing within 24 hours of an assessment. Those who work wouldn't risk losing their jobs, as often happens when they sit in jail for more than a day.
Morris mentioned Norway's one prison, located on an island, and its resulting recidivism rate - the lowest in the world. The self-sustaining institution offers inmates the opportunity to learn navigation skills, utilize solar power, and raise their own vegetables and animals. They leave with skills to become productive citizens after release.
"We (in the U.S.) want a pound of flesh. We need to start talking about our orientation," Morris said. "We can't punish mental illness or addiction out of people. It ain't gonna happen."
Morris and Hancock praised the support and involvement of Yavapai County Sheriff Scott Mascher; Yavapai County Health Care Unit Administrator Becky Payne; Dr. Joe Stewart, psychologist with Yavapai County Restoration to Competency program; and local law enforcement agencies.
"We are very fortunate to have supportive law enforcement. They want more training so they can determine, this is a medical issue, not a criminal issue. Some families will not call the police until things get so bad somebody gets hurt," Hancock said.
Supervised probation costs $3 per day as compared to about $70 per day to house an inmate in jail or prison, Morris said.
"Probation works. It's not about being soft on crime. It's about being smart on crime," he added. "We don't want people to come back."
Without involvement in the criminal system, many people with mental illness don't get help. Even when prescribed medication, finding the right combination and the right balance of medication takes time.
"All have side effects. One person can't take the same medication as someone else," said Dr. Joseph Stewart, psychologist with Yavapai County Restoration to Competency program.
Both Morris and Hancock implored audience members to become part of a community mental health coalition similar to what the Verde Valley has.
"We need one on this side desperately," Hancock said. She and Morris are asking people - especially Baby Boomers who want to give back to society and the community - for help with finding resources, jobs, transportation, and just being people who care.
Hancock would like to see the community come out and support the hard work and success of probationers. An upcoming Drug Court graduation takes place March 25 at 7 p.m., and the public is invited to celebrate probationers' accomplishments.