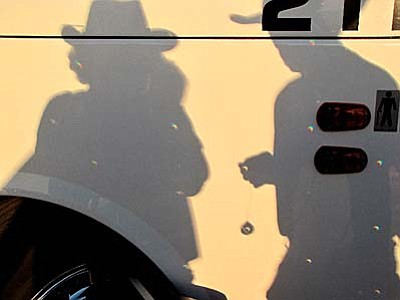 Originally Published: March 16, 2015 6:56 a.m.
I'm an eclipse junkie. (Let's face it, I'm a space junkie, pure and simple.)
Although I don't travel throughout the world chasing eclipses, I do see as many as I can.
Back in 2012, I found out about an annular solar eclipse where the totality was going to cross the NE corner of Arizona, and I quickly signed up my husband and myself for a trip. We rode a bus to Chinle, located in the Navajo Reservation and very near Canyon de Chelly. A couple hours before the start of the eclipse, we were taken to an excellent vantage point to set up. Lawn chairs, tripods, cameras, telescopes and other paraphernalia dotted the high desert as we all picked what we thought would be the perfect location to view and record the eclipse. As the time neared, filters were fixed in place, batteries were checked, and butts were settled into chairs. Time to sit back and watch the show.
An annular eclipse isn't quite as amazing as a total solar eclipse where the moon completely blocks out the sun and turns day into night. In an annular (note: that's not annual) eclipse, the moon is further away from the earth and therefore its disc looks smaller and doesn't quite cover the entire sun. What this means is that if you're in the path of totality, you'll see the disc of the moon cover the center of the sun but leave a glowing edge around the outside. If you aren't near totality, the coverage of the sun slides to the side the further you are from the path.
Some years ago, I had watched a solar eclipse from my patio. (I say watched, but I stress that this was only through a solar filter on my camera. NEVER look directly at a solar eclipse!) I had a large faceted crystal hanging from the roof and when I looked down at the patio floor, I saw hundreds of tiny, rainbow eclipses dancing across the concrete. I decided to recreate this effect at the eclipse of 2012, so I took one of my large crystals with us to the viewing site. While my husband (right in the picture) held the crystal in front of the side of the bus, I (left) took the picture of the tiny eclipses shimmering across our shadows. There was a young Navajo girl there who was so entranced by the effect that I gave her the crystal, and she immediately ran off to create rainbow eclipses for her friends.
(Melissa Bowersock is a photographer and multi-genre author who has twelve novels and one non-fiction title to her credit. For more information, visit her web page at www.newmoonrising.net.)
More like this story