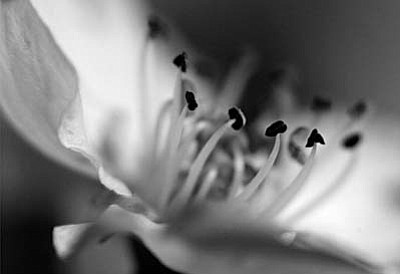 Originally Published: March 23, 2015 7:30 a.m.
Several years ago, I shot a series of photographs of flowers with macro filters. The images, all in black and white, ended up on display in a gallery in Laguna Beach, California.
My newspaper work, of course is in color. But most all of my personal photography is in black and white. Such as this floral that I shot yesterday in the front yard of our home. My friend Rosemary recently showed me this rather awesome - and rather inexpensive macro kit she found on Amazon.
With a rather sharp closeup attachment, as well as a wide-angle add-on, we tested it in photography class and found it to yield very sharp photographs. So I picked up two of these kits. One for me, and one for my wife Teresa.
The kits arrived on Wednesday. Teresa and I finally got to try them out yesterday.