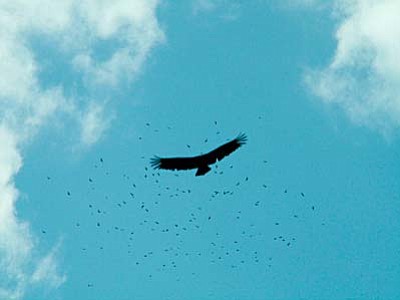 Originally Published: March 23, 2015 7:19 a.m.
Just last week, I noticed the first vultures of spring spiraling lazily across the sky. I have come to love vultures, and I miss them during the winter when they've made their way back to southern climes. Seeing them again reminded me of an amazing event I was lucky enough to witness when my husband and I vacationed in Costa Rica in March of 2006.
We had spent a few days prior in Guatemala, visiting Mayan sites like Tikal, then met our guide in San Juan for the Costa Rica part of the trip. Unfortunately, on our first full day in country, I came down with the Guatemalan equivalent of Montezuma's revenge.
While my husband joined the rest of our tour group to go whitewater rafting, I slept off the effects of the bug and then wandered the gardens of the Sarapiquis Rainforest Lodge resort. Armed with my camera and avidly looking for tropical birds to photograph, imagine my surprise when I looked overhead and saw a river of vultures that stretched from horizon to horizon.
I watched them stream past, hundreds and hundreds of them, all heading unerringly north. I was stunned. I kept thinking the river of black birds would slow, thin, trickle to an end, but it never did. It was the most amazing animal sight I had ever seen.
When the rest of our group returned from the raft trip, our guide confirmed that what I had seen was, indeed, the beginning of the vulture migration. Over the next few days, we saw many of them winging their way north, but never in the organized numbers like I saw that very first day.
Now, every spring and fall I remember that amazing sight, and I think of the river of vultures flowing one way, then the other, year after year.
(Melissa Bowersock is a photographer and multi-genre author who has twelve novels and one non-fiction title to her credit. For more information, visit her web page at www.newmoonrising.net.)
More like this story