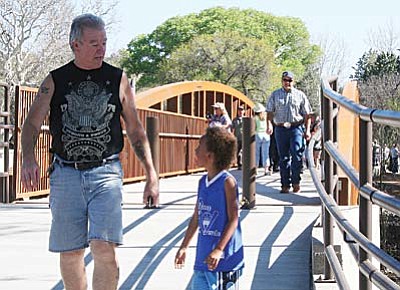 Originally Published: March 31, 2015 11:22 a.m.
BEAVER CREEK - More than 85 Beaver Creek residents turned out Saturday to the dedication of the new flagpole and to be among the first to cross the newly-installed Wet Beaver Creek Pedestrian Bridge.
The dedication literally began with a bang, as the American Legion Post 135 from Cornville marched to the flagpole to "Raise the Colors" for the first time, followed by a traditional rifle salute.
The National Anthem was sung by Beaver Creek School Superintendent Karin Ward and Charity Worden of Montezuma Chapel.
Pastor Ken Miller was the official Master of Ceremonies.
Yavapai County District 2 Supervisor Tom Thurman recognized several key organizations and commended the local volunteers who are willing to work, not just to complain, and said he believes it is the volunteers who make the community.
A Certificate of Appreciation were awarded to Janet Aniol of the Lake Montezuma Property Owners Association.
The bridge has been a project that has been in the works for the past 10 years.
She recognized all of the different organizations that worked relentlessly to see this project through from concept to the actual installation.
Candy Hammond, president of the Beaver Creek Preservation and Historical Society, was also recognized, for her enthusiastic approach to coordinating the installation of the flagpole. John Maddox, Captain of the Color Guard for American Legion Post 135 Cornville, was also recognized for his dedication and commitment to communication and coordination for the installation of the new flagpole.
According to Yavapai County Project Engineer Byron Jaspers, the bridge is approximately 163 feet long. The new pedestrian bridge was built to provide safe passage across Beaver Creek and to allow access for emergency equipment and personnel in the event of flooding of the current bridge, with the new bridge almost five feet higher and above the 100-year flood level.
The ribbon was cut and the community made their maiden voyage across the new bridge!
The ceremony would not have been complete without a BBQ. Lake Montezuma Resident Joe Warren provided free hotdogs in appreciation to everyone who made these projects a success and as a special thank you to the Banicki Construction personnel.
More like this story