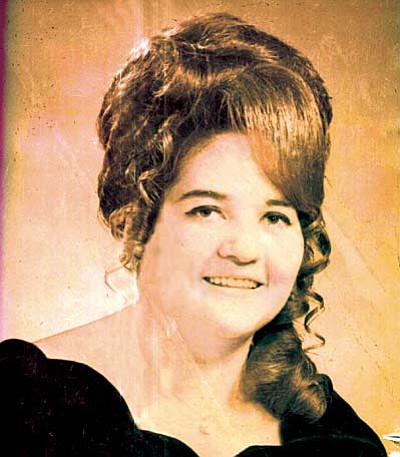 Originally Published: May 12, 2015 2:01 p.m.
Linda Aurora Casaus, age 63, longtime resident of Camp Verde, passed away at home on Friday, January 2nd, 2015. Linda was born on April 27th, 1951 in Belmont, Arizona to the late Steven T. Casaus & Aurora (Cruz) Casaus.
Linda grew up in Flagstaff with her brothers, sisters, many cousins, and aunts and uncles. She attended Coconino High School where she met many lifelong friends. Linda worked at the Hozhoni Foundation for the Handicapped in Flagstaff where she was employed for 20 years.
Working with the handicapped was more than her love in life, it was her passion. She was an avid bowler in her younger days, bowling on numerous women's and mixed leagues. She loved watching basketball (Suns) and football (Cardinals) with friends and family and she wasn't one to hold back her frustrations when her favorite teams were losing. Linda didn't meet anyone she didn't like. You always knew where you stood with her as a friend as she would call you "sweetie", "babe" or "honey."
She was full of humor, intentional or not. She loved a good joke regardless of the content and she found humor in just about every aspect of her life. She is survived by her son Richard of Camp Verde; grandchildren Richard Jr. (Chrystalyn), Matthew (Paige), Daniel; great-grandchildren Nevaeh, Kaylee, Raeviin-Meadow; brothers Steven R. (Rachel), Robert, Roland (Christina), nephews Jesus (Valerie), Cameron; nieces Kayleen (Patrick), Victoria (Edward); great nieces & nephews; numerous cousins and last but not least, her companion in life, her dog Precious who was always by her side.
She is preceded in death by her parents and sisters Gloria & Magdalena.
Services will be on Saturday, May 16, 2015 at Immaculate Conception Catholic Church, 700 N. Bill Gray Rd. Cottonwood, AZ at 11:00 am with a reception to follow in the fellowship hall. Memorial contributions can be made in Linda's honor to Hozhoni Foundation, Inc., 2133 N. Walgreen St., Flagstaff, AZ. 86004. 928-526-7944.
Information provided by survivors.
More like this story